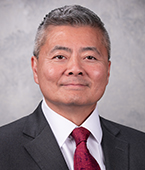 Brian Kim, JD
Provost and Vice President for Academic Affairs
559-472-7449
bkim@chsu.edu
Brian Kim, JD, has served as the Provost, Vice President for Academic Affairs, and Chief Academic Officer at California Health Sciences University since April 2022.
Provost Kim has more than 20 years of academic experience and has held teaching positions at University of Baltimore School of Law, University of Maryland School of Law, and George Mason University School of Law. Kim's professional career includes 35 years of legal experience.
Prior to joining CHSU, Kim served as President and Chief Academic Officer for the Arkansas Colleges of Health Education (ACHE). He oversaw the day-to-day affairs and accreditation of the institution and all programs, including the academic, operational, and fiscal management of all programs within the institution consisting of the college of osteopathic medicine, master of biosciences program, college of occupational therapy, college of physical therapy, and the school of physician assistant studies.
Before ACHE, Kim served as the Vice President for the Department of Accreditation and Associate General Counsel for the American Osteopathic Association (AOA), the representative member organization for more than 145,000 osteopathic medical doctors and osteopathic medical students in the United States. In this capacity, he served as the secretary to the Commission on Osteopathic College Accreditation (COCA), the accrediting agency for all osteopathic medical schools.
Previously, Kim was the counsel to the District of Columbia Board of Medicine, Assistant Attorney General for the District of Columbia Office of the Attorney General Civil Litigation Division and was the first Asian American judge appointed to the District Court of Maryland for Montgomery County by the Governor.
Kim received his Juris Doctor (JD) degree from Boston College Law School in Newton, Massachusetts in 1985. Prior to that, he received his Bachelor of Arts degree in political science, minoring in Spanish and economics, from Tulane University in New Orleans, Louisiana in 1982.