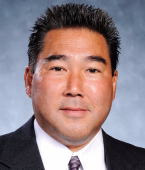 Mark Okamoto, PharmD
Vice President of Research
Accreditation Liaison Officer
Dean, College of Pharmacy
559-325-3600
mokamoto@chsu.edu
Prior to joining CHSU as Dean for the College of Pharmacy, Dr. Mark Okamoto served as the Founding Dean, Chief Academic Officer and tenured Professor at the Philadelphia College of Osteopathic Medicine (PCOM) School of Pharmacy, Georgia Campus. Before that time, he served as Founding Chair of the Department of Pharmacy Practice and tenured Professor at the University of Hawaii at Hilo.
Dr. Okamoto began his academic career at the Western University of Health Sciences, College of Pharmacy in Pomona, CA. He served as Associate Dean for Assessment and Teaching Effectiveness, Director of Assessment, Chair of Social and Administrative Sciences, and Associate Professor of Pharmacy Practice and Social and Administrative Sciences.
Before entering the academy, Dr. Okamoto was the Director of Clinical Affairs for PHI Healthcare Management, Inc. for one year and at Kaiser Permanente in Southern California for five years as a Clinical Pharmaceutical Scientist conducting clinical and outcomes research.
Dr. Okamoto obtained his B.S. degree in biology at the University of California, Los Angeles, followed by a Doctor of Pharmacy degree from the University of Southern California. His four-year post-doctoral training included completion of a pharmacy residency in general medicine at the Los Angeles County / University of Southern California Medical Center, followed by two post-doctoral fellowship positions focused on pharmacokinetics & pharmacodynamics of antimicrobials and pharmacoeconomics and pharmacoepidemiology.