Graduation Ceremony Details
The Graduation Ceremony for CHSU's PharmD Class of 2018 will be held at 10:00 am on Saturday, May 19, 2018 at Clovis Hills Community Church (10590 N Willow Ave., Clovis, CA 93619). Tickets are not required, all graduates and their guests are invited to attend the Graduation Ceremony. Refreshments will be served after the ceremony. Parking is free and a map of the event location is located below: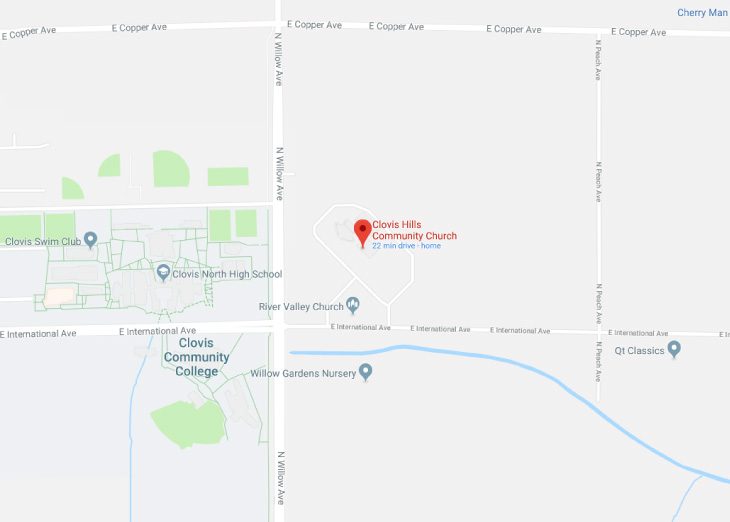 Additional Ceremonies and Events
Graduation Week Activities:
Download Graduation Week Agenda Here
Graduation Awards Ceremony and Dinner:
Graduates and a guest are invited to a Graduation Dinner and Awards Ceremony at 6:00 pm on Friday, May 18, 2018 at Copper River Country Club (2140 E Clubhouse Dr., Fresno, CA 93730). Graduates may purchase additional tickets for $50 each from Kristi Kruger, Student Services Administrative Assistant at the front desk of the 120 building. The awards ceremony will include the presentation of the CHSU Value Awards and the prestigious Granville Homes Outstanding Graduate Student Award, and dinner will be served thereafter.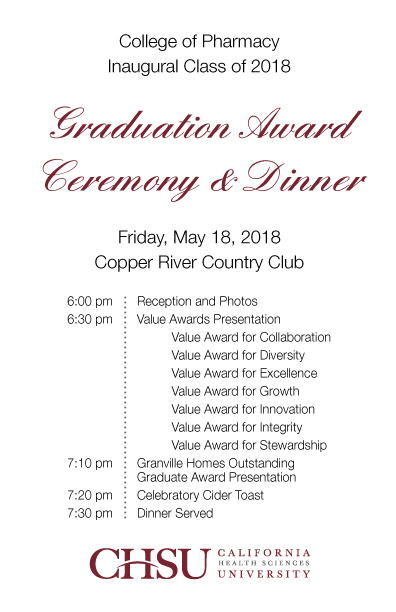 Photography and Videography
Family and friends are welcome to take photos of graduates before or after the ceremony. During the ceremony, CHSU will provide professional photographers to capture each Graduate walking on stage. These photos will be uploaded to this website after the ceremony and available for download.
News and Media
Media are welcome to attend the graduation ceremony. To schedule interviews or filming, kindly contact Richele Kleiser, VP of Communications and Marketing in advance at rkleiser@chsu.edu or 559 325 3600.
Accommodations
Rooms are available at a discounted rate when you mention CHSU.
Fairfield Inn and Suites
50 N Clovis Ave, Clovis, CA 93612
Phone: (800) 228-2800 or (559) 323-8080
Comfort Suites  Clovis
143 Fresno-Clovis Rail-Trail, Clovis, CA 93612
Phone: (559) 299-9992
Best Western – Clovis Cole
415 Clovis Ave, Clovis, CA 93612
Phone: (559) 299-1547
Make your reservations early as availability is limited.
For Students Only
SAVE THE DATE
for California Health Sciences University
College of Pharmacy Class of 2018
Inaugural Graduation Ceremony
Saturday, May 19, 2018 at 10:00am
Clovis Hills Community Church
Formal Invitation and Details to Follow
Students – Please Save the Date for You and One Guest:
Inaugural Graduation Dinner and Awards
Friday, May 18, 2018 at 6:00pm
Copper River Country Club
More Details to Follow.
Ordering Graduation Regalia
Graduation Announcements
Commencement Expectations
As a special gift from the University for the Inaugural Graduating Class of 2018,
CHSU will be purchasing
your Regalia for you
from Jostens.
Important:
Please complete this mandatory survey with your sizing information by Wednesday, March 28 so we can place the order. https://www.surveymonkey.com/r/CHSURegalia
Since we are purchasing the Regalia, you may keep it after graduation. We've received some questions about the Regalia, so read below for more details: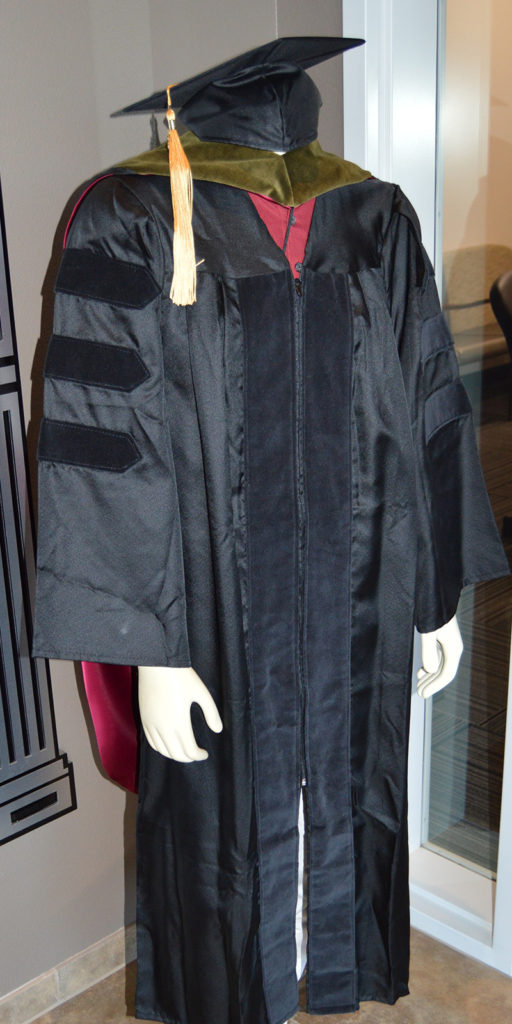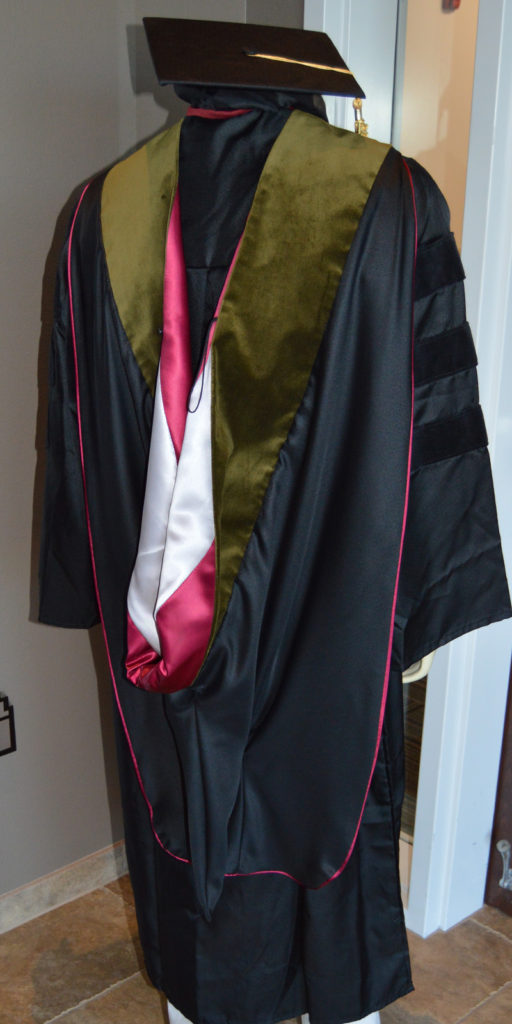 Your Regalia includes your doctoral gown, custom-made CHSU hood, and mortar board cap. The doctoral gown is black with black velvet trim in front and 3 black velvet chevrons on the sleeves. This gown was recommended by Jostens for our region for its comfort. The light-weight, breathable material will help to alleviate perspiring, dehydration and overheating. It's also environmentally friendly and biodegradable, since many gowns are not kept long and end up in landfills.
The custom-made doctoral hood includes satin lining with CHSU school colors with the velvet being olive green, signifying your Doctor of Pharmacy degree. Your hood is a forever keepsake.
The mortar board cap is used in PharmD and other doctoral commencements in California and across the nation and was selected by the planning committee due to its tradition and more common use.
Your Regalia will be shipped to CHSU and will be available for pick up no later than Grad Week (May 14-18). We may receive the order sooner and for those that might want to take photos with their Regalia, we will let you know when it arrives to arrange for special pick up.
See the photos above or stop by the lobby of the 120 building to see it in person!
Stole of Gratitude
Every graduate has had a special person who, through moral or financial support, made a big difference in his or her life. The Stole of Gratitude offers an opportunity to say, "Thanks for helping me make it through, thanks for making it possible for me to succeed!"
After the ceremony, the new graduate presents the Stole of Gratitude to someone who provided extraordinary support or who has helped with wisdom, words of encouragement, or financial assistance.
Presenters often write a few words of love and appreciation on the back of the Stole using a permanent marker. Friends and family of the graduate may autograph the front or back. The Stole of Gratitude is a lasting symbol of love, appreciation, and academic accomplishment.
Stoles of Gratitude will be available for purchase during Grad Week, each stole is $35 each.
Academic Honor Cords
Graduates that qualify for honor cords will receive them with their regalia, the color designation for cords is as follows:
| | | |
| --- | --- | --- |
| Summa Cum Laude GPA | 4.0 – 3.90 | Gold Honor Cord |
| Magna Cum Laude GPA | 3.89 – 3.70 | Silver Honor Cord |
| Cum Laude GPA | 3.69 – 3.50 | Red Honor Cord |
CHSU will provide each graduate with five announcements, these will be available for pick up with the graduation regalia. Graduates are welcome to order additional announcements through a vendor of their choice.
You are welcome to share this downloadable PDF invitation with your family and friends to invite them to join you for the ceremony.
Download Invitation
Commencement and graduation activities at CHSU symbolize the end of many years of hard work and provide a time for your family and friends to recognize and celebrate your success!
We ask for your help in making these ceremonies a positive experience for everyone by following our CHSU STUDENT PROFESSIONALISM AND CONDUCT POLICY.
Commencement is an alcohol, drug, smoke, vapor and tobacco-free event and a zero-tolerance for disorderly behavior will be strictly enforced.  Graduates and guests will not be permitted to carry alcoholic beverages into ceremony sites or consume them there.
Please help us make Class of 2018 Commencement and graduation ceremonies events to remember with celebration and honor!
For Family and Friends
Hotel Accommodations
Ordering Flowers for Your Graduate
Parking and Map
Rooms are available at a discounted rate when you mention CHSU.
Fairfield Inn and Suites
50 N Clovis Ave, Clovis, CA 93612
Phone: (800) 228-2800 or (559) 323-8080
Comfort Suites  Clovis
143 Fresno-Clovis Rail-Trail, Clovis, CA 93612
Phone: (559) 299-9992
Best Western – Clovis Cole
415 Clovis Ave, Clovis, CA 93612
Phone: (559) 299-1547