2023 Grad Stories: Francis Reyes
May 8, 2023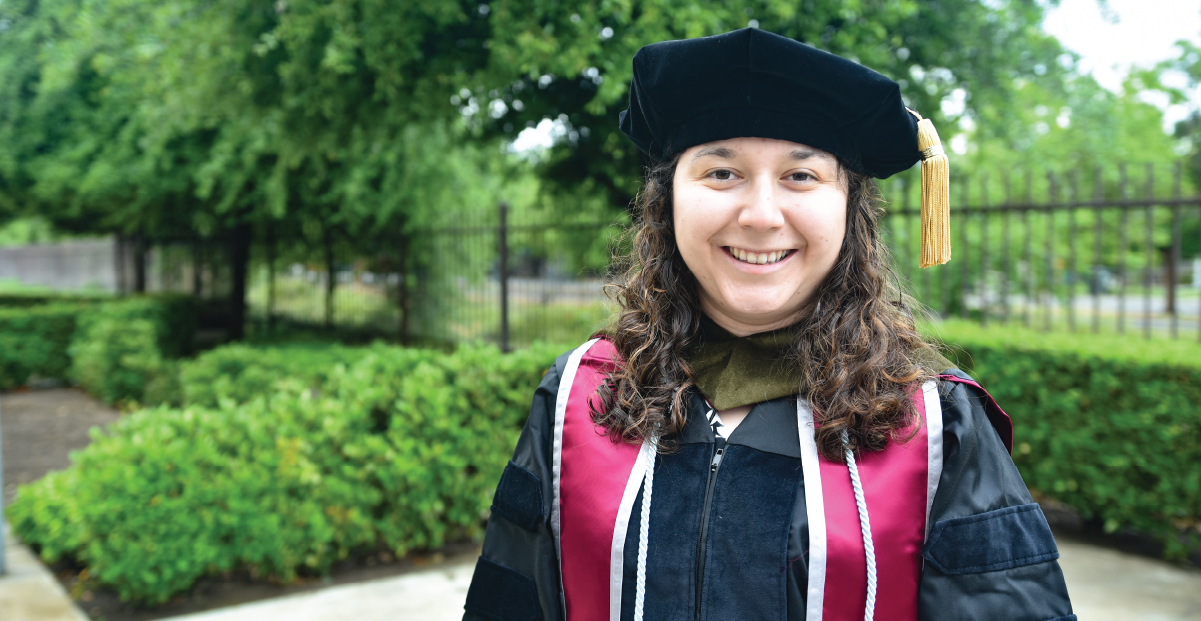 Fresno Native Hopes to Serve Children Through Work at Walgreens Specialty Pharmacy
Francis Reyes, PharmD, is a CHSU College of Pharmacy Class of 2023 graduate and Fresno native. She understands how a compassionate health care professional can change the lives of those they serve, and she strives to help others, especially children, the way she has been helped.
Dr. Reyes would not be here today if it were not for a compassionate physician who gave her mother some life-saving advice. During the birthing process, Dr. Reyes' mother was told that her baby was going to be stillborn and recommended the pregnancy be terminated. Her mother fought for her baby's life and sought a second opinion by a family friend who was a physician at Valley Children's Hospital. Dr. Reyes was not stillborn, and was just in deep sleep, so she was delivered via cesarean section and has lived a healthy life.
"We have a family friend who was a physician at Valley Children's. He came over to advocate for my life by recommending a C-section, and it turned out that I was just asleep," said Dr. Reyes. "Because of him, I have this opportunity to try to serve other children as well."
In the seventh grade, Dr. Reyes knew she wanted to become a pharmacist after being mentored by a Registered Nurse (RN). Her mentor exposed Dr. Reyes to medication management and inventory by teaching her how to prepare and count inventory of medications for nursing classes taught by her mentor.
As a child, the most memorable thing about inventorying medications was the colors and shapes of the actual pills and capsules. As an adult, Dr. Reyes recalls how impactful it was that her RN mentor took the time to explain what each of the medications does in the body to help patients with various ailments.
"It was my inner child that called me to this career for an innocent reason. It fascinated me that we get to help people with these colorful medications. Now, I can do something about this with my PharmD to serve my underserved community in the Valley with everything I can," said Dr. Reyes.
This combined with the story of her birth, fueled her passion towards helping children. Her goal to work for Valley Children's Hospital as a pharmacist is being achieved through an unexpected path. She has accepted an offer to work for the Walgreens Specialty Pharmacy located inside of Valley Children's as part of a partnership between the two entities. She is currently a Graduate Intern but will become a Pharmacist once she passes her board examinations.
Specialty pharmacy is a career pathway that Dr. Reyes has been passionate about because of the focus on providing medication to patients who have been discharged from the hospital with serious health conditions and require complex treatment regiments. In her role, she reviews provider referrals and works directly with patients to discuss the insurance coverage and stress the importance of medication adherence.
Pursuing a career in pharmacy was not easy and Dr. Reyes navigated through several financial challenges to achieve her dream. Since high school, she regularly held two jobs while going to school as a full-time student to provide for herself and to assist with her family's expenses.
After graduating with a bachelor's degree in Chemistry from Fresno State, Dr. Reyes attended CHSU's Doctor of Pharmacy program and developed her leadership skills in the pharmacy profession. She served as a student representative on the CHSU Wellness Committee to advocate for student mental and physical health resources. She also participated in the Student Senate and the American Pharmacists Association (APhA).
She was the President Elect for California Society of Health-System Pharmacists (CSHP) CHSU chapter with the focus to help educate her colleagues on how to prepare and apply for a residency after graduating. In 2022, she received the CSHP Student Leadership Award, one of only fourteen pharmacy students statewide, for her contributions to CSHP.
With help from her mentor, Allen Keshishian Namagerdi, PharmD, Assistant Professor of Clinical Sciences, Dr. Reyes made CHSU history in 2022 when she and another student from her cohort, Dr. Yelena Martinez, became the first team from their college to enter the finals of a CSHP Clinical Skills Competition. Drs. Reyes and Martinez placed 4th out of 15 teams statewide.
"Going to the finals was an unbelievable achievement because we were the first team from CHSU to go to the CSHP finals. It was huge boost of confidence for us to know that we were worthy and competent as pharmacy students with the support of Dr. Keshishian," said Dr. Reyes.
During her time at CHSU, she also worked at the CHSU College of Osteopathic Medicine Library as a COP Student Library Assistant where she discovered her interest in building interdisciplinary relationships between primary care physicians and pharmacists to collaborate on increasing patient adherence to medication. She took the opportunity to practice this by educating CHSU medical students about library resources, medication, and therapy regiments.
"I think the biggest need in the Central Valley is increasing patient adherence to medication and accessibility to medication consultation. Pharmacists are on the frontlines and have a big role in educating the community. So, we can assist primary care physicians to work together and increase our patient's health awareness and medication management," said Dr. Reyes.
The Graduation Ceremony to honor Dr. Francis Reyes and her peers in the CHSU College of Pharmacy Class of 2023 will be held Saturday, May 13, 2023. Dr. Reyes received the CHSU Value award for Innovation.
The 2023 Grad Stories is a series dedicated to honoring our California Health Sciences University (CHSU) Doctor of Pharmacy graduates and showcasing their accomplishments throughout their time at CHSU while earning their PharmD degree.
Related Articles