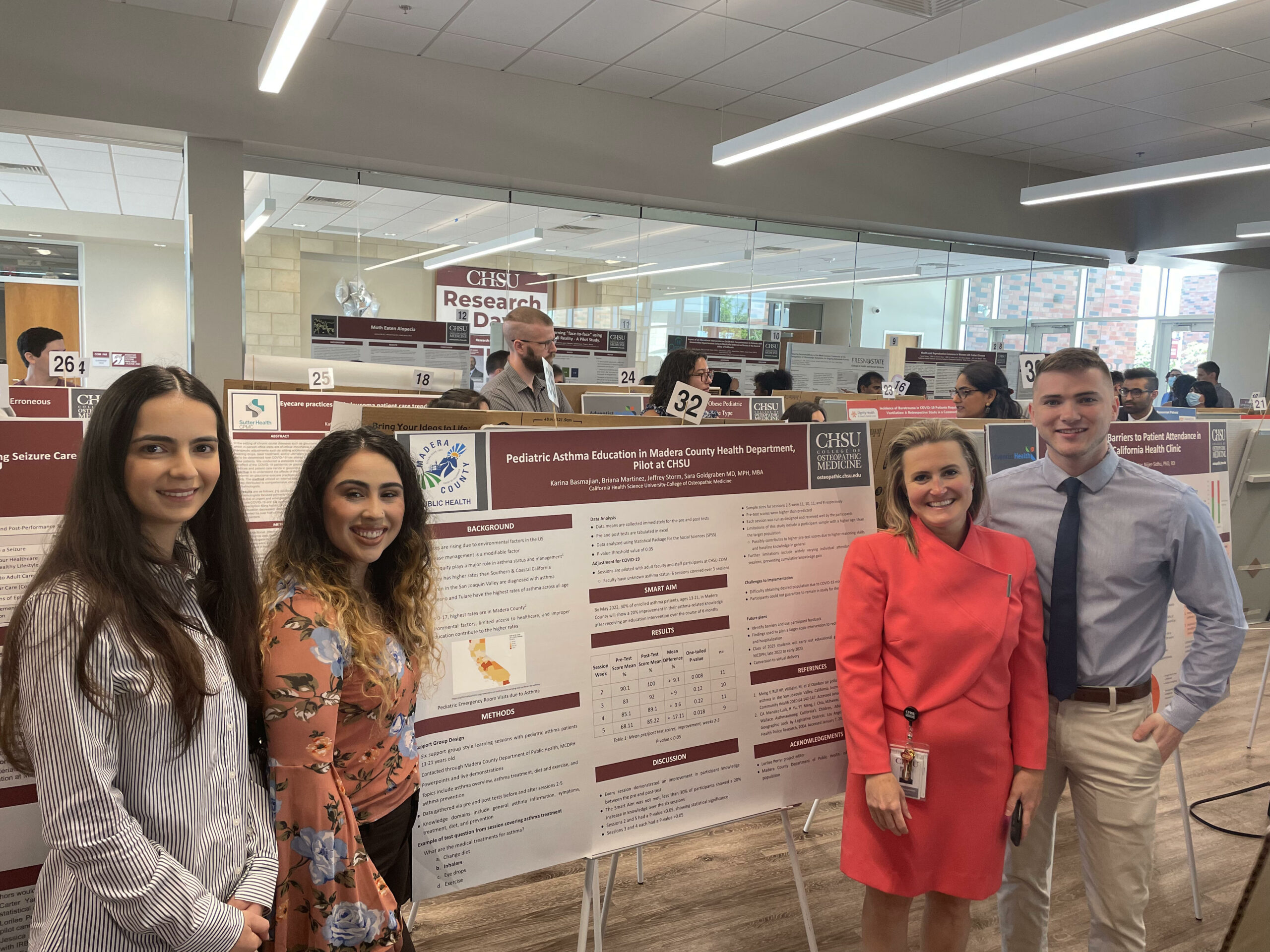 CHSU
research day
Saturday, May 4, 2024
California Health Sciences University is pleased to invite you to the CHSU Research Day to be held on Saturday, May 4, 2024. The CHSU Research Day is hosted by the CHSU College of Osteopathic Medicine (COM) and CHSU College of Biosciences and Health professions and will showcase the research and scholarly activities by our students and faculty members. In addition, we invite all local researchers, clinicians, pharmacists, resident physicians/pharmacists and faculty leading local Residency and Fellowship programs to participate.
As part of this event, we will host a competition for the best poster and podium presentation in various categories, such as: Faculty, Resident Physician/Pharmacist, and Student. The top three presenters in each category will be recognized with an award and a certificate at the event.
All presenters are encouraged to submit a visual abstract that CHSU and presenters can use on social media platforms. The presenters can attach the optional visual abstract during registration.
Registration and Abstract Submission information will be available soon.
Registration
Attendees must register for the event, regardless of whether or not they will be presenting a poster or project. Registration information will be available soon.
Abstract Submissions
Deadline to submit your presentations and posters is TBD.
CHSU RESEARCH DAY
Saturday, May 4, 2024
8:00 am – 1:00 pm
CHSU-COM
2500 Alluvial Avenue
Clovis, CA 93611
Registration is Free
TENTATIVE Schedule
| Time | Details |
| --- | --- |
| 8:00 am – 8:30 am | Registration and Coffee |
| 8:30 am – 8:45 am | Welcome addresses from CHSU Administration |
| 8:45 am – 9:30 am | Keynote Address |
| 9:30 am – 10:15 am | Poster Session 1 with Break |
| 10:15 am – 11:00 am | Research Podium Address |
| 11:00 am – 11:45 am | Poster Session 2 with Lunch |
| 11:45 am – 12:50 pm | Student Presentations and Award Ceremony |
Questions
If you have any questions or would like more details about the event, please contact the CHSU Research Committee at chsu.rsc@chsu.edu or Dr. Edward Merino, Research Day Committee Chairperson at emerino@chsu.edu.