CHSU Hosts Graduate Awards Ceremony for the College of Pharmacy Class of 2019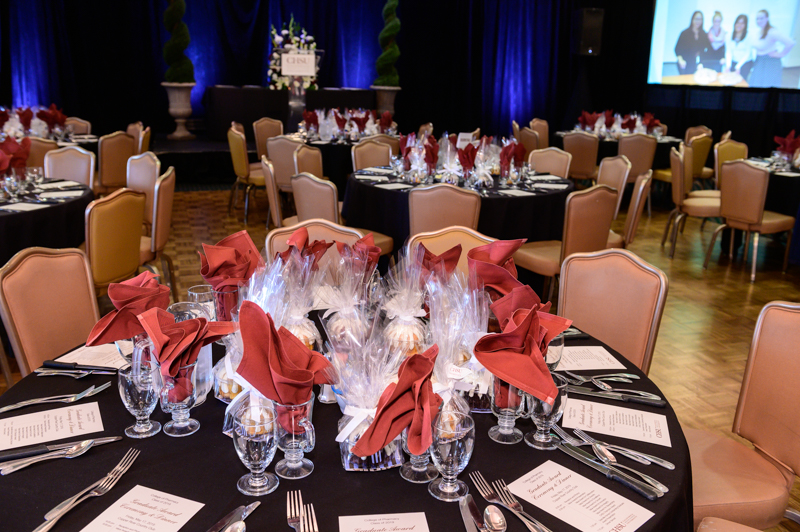 California Health Sciences University (CHSU) hosted a Graduate Awards Ceremony and Dinner for the College of Pharmacy's Class of 2019 on May 17, 2019 at Copper River Country Club.
There were a total of ten awards given to graduating students that best represent the University's mission and values.
One student was honored by receiving the Granville Homes Outstanding Graduate Award and $10,000 gift.
Congratulations to Lina See Vang for receiving the Granville Homes Outstanding Graduate Award!
Granville Homes Outstanding Graduate Student Award Recipient: Lina See Vang
• Performs in the top 20% of his/her class academically.
• Demonstrates leadership qualities both in academic and extracurricular activities.
• Demonstrates sincere involvement in both health-related and community volunteer projects.
• Demonstrates eagerness to serve and meet the health care needs of the Central Valley.
This year, our University wanted to honor a member of our campus community that others have seen as a champion that has persevered and overcome obstacles or hardships to purse their education. We are thrilled to honor such a special person of our campus community with the CHSU Champion Award and $500 gift.
CHSU Champion Award Recipient: Tiffany Do
Aligned with the University values, eight students were honored by receiving one of the CHSU's Value Awards, accompanied by $500.
Value Award for Collaboration Recipient: Leanna Marie Winnick
• Invests the most effort into helping other classmates in their overall development and helps them succeed academically and professionally.
• Earns trust and respect of his/her patients and has worked towards their wellbeing.
• Contributes greatly by collaborating with faculty and staff of the University.
Value Award for Diversity Recipient: Leticia Ordóñez
• Demonstrates consistent involvement in pharmacy community service in a cross-cultural setting throughout his/her four years at CHSU.
• Demonstrates significant participation in a service-based organization in a cross-cultural setting.
• Intends to practice in Central Valley or any other underserved area after Graduation.
Value Award for Excellence Recipient: Christopher Vang
• Performs in the top 20% of his/her class academically.
• Strives to be a better team player, critical thinker, and skilled problem solver.
• Demonstrates continuous reflection upon his/her performance and is open for feedback.
Value Award for Growth Recipients: Tied – Lalitkumar Rajora and Jennifer Vanessa Leyva
• Strives to consistently improve in the field of academics, co-curricular and extra-curricular activities and in abiding by the CHSU values.
• Makes failure a steppingstone towards his/her success.
• Stands up to face and fight and prevents falling victim to the circumstance and evolves as a better graduate student and health care professional.
Value Award for Innovation Recipient: Armen Nalbandyan
• Contributes creatively towards more efficient process/ideas or initiates new activities.
• Demonstrates that the process/idea is sustainable.
• Demonstrates that the process/idea is original and creative to this institution.
• Demonstrates that the overall innovation benefits the students, staff, faculty, patients or the community.
Value Award for Integrity Recipient: Carrie Ker Vue
• Keeps promises and fulfills expectations.
• Adheres to the highest ethical and professional standards in academics, research and/or health care.
• Demonstrates good decision-making based on values and ethics.
Value Award for Stewardship Recipient: Salam Kabbani
• Contributes to community by collaborating with other students, faculty and staff in a highly efficient way.
• Demonstrates stewardship selflessly within the campus, community or world.
• Utilizes material/financial resources in a highly efficient and sustainable manner.
Family and friends of the graduates, faculty and staff, and Board of Trustees all attended in support of the Class of 2019. Dr. Thomas Patton, Research Consultant for CHSU and Keynote Speaker for the Graduation Ceremony, also was in attendance.

The evening concluded with a special dinner to celebrate the graduates and their accomplishments over the last four years.

To see more photos from the awards ceremony, please visit the CHSU Facebook photo album.