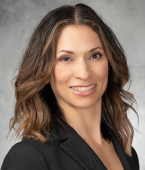 Carlita Romero-Begley, PHR, SHRM-CP
Vice President of Human Resources
Title IX, Equity and Diversity Coordinator
559-282-8747
cromerobegley@chsu.edu
Carlita Romero-Begley has 20 years of comprehensive human resources experience and expertise in recruitment and retention, onboarding, salary administration, performance management, employee benefits design and administration, employee relations, change management, and legal compliance.
She also has knowledge and expertise with mentoring programs and diversity initiatives. She has been a mentor to other human resources professionals and support and administrative employees.
Carlita serves as the Director of Human Resources and Title IX, Equity and Diversity Coordinator for California Health Sciences University. She was instrumental in establishing the Title IX, Equity, and Diversity department at the University and is an expert in risk management and employment law compliance. Serving as liaison and leading investigations for formal and informal complaints and grievances, Carlita helps to address the needs and concerns for everyone in the University community while minimizing liability.
Carlita also oversees employee relations and performance matters, providing support and coaching to managers, employees, and teams related to employee relations, performance, department functioning, and Human Resources. She collaborates with Deans of Colleges and leads the implementation of University-wide policies related to faculty employment, performance appraisals, disciplinary issues and actions to be taken.
She previously served as Human Resources Manager at Lozano Smith, LLP, a statewide education and public agency law firm that serves hundreds of California's K-12 and community college districts, universities, and numerous cities, counties, and special districts. In this role, she supported 150+ employees.
Carlita received a Bachelor of Arts in Psychology with an emphasis in Women's Studies from California State University, Chico. Carlita has been a member of the Society of Human Resources Management (SHRM) since 2009, and she has been a certified Professional in Human Resources (PHR) since 2008. Carlita has maintained her SHRM Certified Professional (SHRM-CP) since 2015.