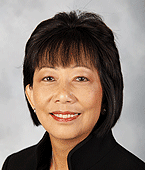 Florence T. Dunn
Florence T. Dunn has served as Founding President of California Health Sciences University since 2012. Under President Dunn's leadership, the University has rapidly grown, successfully building the current campus and establishing three Colleges – the Colleges of Osteopathic Medicine, Pharmacy, and Biomedical Sciences and Health Professions – to fulfill the mission of the University. She is a long-time advocate for education and community service.
President Dunn is a seasoned leader with more than three decades of banking experience in California's Central Valley with an extensive record of shaping and helping organizations of all industries succeed in that region's unique economy. Prior to joining the University, President Dunn was Senior Vice President and Regional Manager for the Sacramento and Central Valley regions of California Bank & Trust. In that position she played a vital leadership role in the bank's strategic planning, financial management, budgetary oversight and she oversaw marketing for two geographically vast and rapidly growing regions within the state.
President Dunn has served in various leadership and service capacities on numerous Boards ranging from health care, education, agriculture and manufacturing to business. She is currently a Board member for the Central Valley Higher Education Consortium and other private boards and foundations. She previously served for thirteen years on the Board for Community Health Systems (formerly Community Hospitals of Central California) and is a Past Chairman.