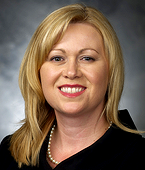 Richele Kleiser
Richele Kleiser has over 25 years of experience with leadership roles in Marketing, Communications, Public Relations, Fundraising and Customer Service within Higher Education, Home Building, Retail and Non-Profit sectors.
Ms. Kleiser has a passion for mentoring high school and undergraduate college students in pursuit of their college and career goals. She currently serves as primary facilitator of the CHSU Próspero Program: Pathway to Pharmacy, which was established through her co-authorship of a grant. She also leads the high school pathway program initiatives, partnering with many of the area high schools and serving on Advisory Boards for two Career Tech Education (CTE) classes.
Prior to joining CHSU in 2013, Ms. Kleiser directed the Marketing, Customer Service and Granville Home of Hope functions at Granville Homes, one of Fresno's largest and most prestigious home builders and developers. With 18 years of service at Gottschalks, Inc. – the largest regional department store of its time on the west coast – she was responsible for the Advertising/Marketing, Private Label Credit Card and Customer Service divisions.
Ms. Kleiser is a highly-motivated, results driven professional with strong decision-making and strategic planning skills. While creating new programs, exploring new directions and moving her institution forward, she works diligently to build strong, lasting relationships with her constituents and partners, as well as with her internal team and colleagues.