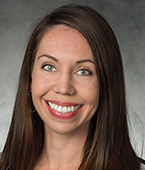 Tanya Bohorquez, CPA
Chief Financial Officer
559-549-6359
Tanya Bohorquez was appointed the Chief Financial Officer at California Health Sciences University in 2021 after serving various roles since she joined CHSU in 2018. She provides strategic leadership for the University's financial and capital resources and is instrumental in developing and managing the annual budgets. She also oversees the University's accounting functions, including financial reporting, audits, and tax filings.
Ms. Bohorquez has nearly 15 years of experience in the accounting profession. For over a decade, she focused on auditing various counties, cities, school districts, and retirement plans spanning from Riverside to the San Joaquin Valley of California. She is a licensed CPA and has been a member of both the AICPA and CalCPA since 2008.
Prior to joining CHSU, Ms. Bohorquez worked for an accounting firm performing both financial and employee benefit plan audits, reviews, and compilations for many local businesses. She began her career in Bakersfield with Brown Armstrong Accountancy Corporation where she gained significant tax and audit experience.
Ms. Bohorquez is a hard-working and dedicated professional who takes pride in her work and her institution. She embraces new challenges and strives to help CHSU grow and thrive.