Dr. Mark Okamoto Appointed as Dean of the College of Pharmacy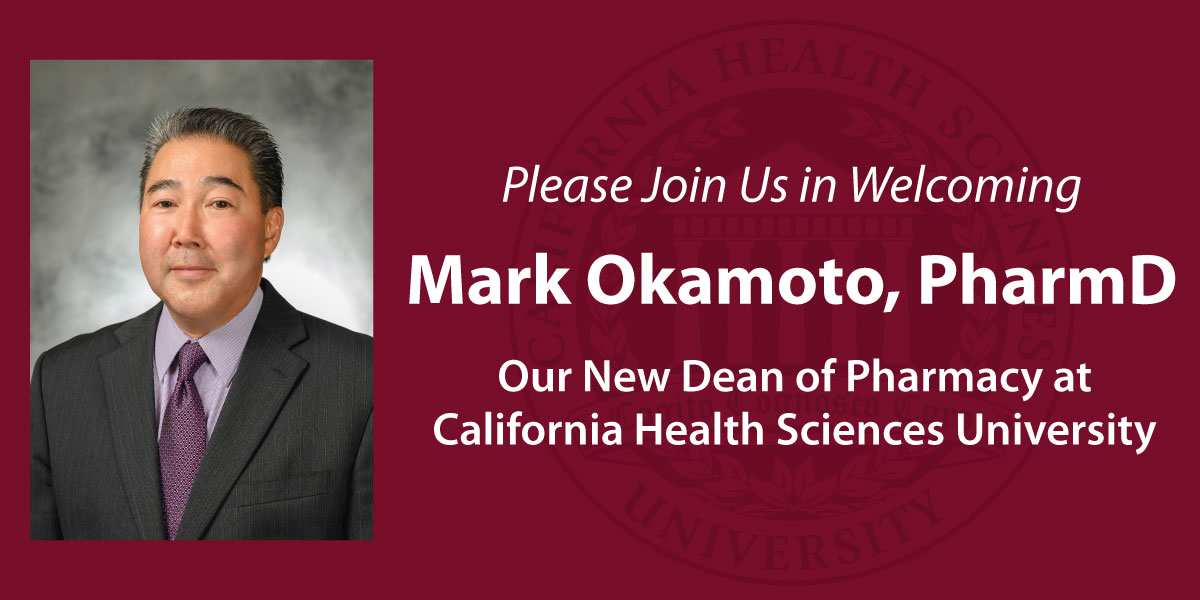 California Health Sciences University is proud to announce that Mark Okamoto, PharmD, has been appointed as Dean and Professor at the California Health Sciences University College of Pharmacy effective February 1, 2020. Dr. Okamoto was selected after a national search that started last fall. He has extensive experience in securing successful accreditation at three new pharmacy programs, developing a student-centric culture, supporting faculty development, and perpetually seeking quality improvements to ensure positive student learning outcomes. Dr. Okamoto's first day on campus will be Tuesday, February 18, and he will work remotely at times during his transition, arriving on campus full-time on April 1, 2020.
Prior to joining CHSU, Dr. Okamoto served as the Founding Dean, Chief Academic Officer and tenured Professor at the Philadelphia College of Osteopathic Medicine (PCOM) School of Pharmacy, Georgia Campus. Before that time, he served as Founding Chair of the Department of Pharmacy Practice and tenured Professor at the University of Hawaii at Hilo.
Dr. Okamoto began his academic career at the Western University of Health Sciences, College of Pharmacy in Pomona, CA. He served as Associate Dean for Assessment and Teaching Effectiveness, Director of Assessment, Chair of Social and Administrative Sciences, and Associate Professor of Pharmacy Practice and Social and Administrative Sciences.
Before entering the academy, Dr. Okamoto was the Director of Clinical Affairs for PHI Healthcare Management, Inc. for one year and at Kaiser Permanente in Southern California for five years as a Clinical Pharmaceutical Scientist conducting clinical and outcomes research.
Dr. Okamoto obtained his B.S. degree in biology at the University of California, Los Angeles, followed by a Doctor of Pharmacy degree from the University of Southern California. His four-year post-doctoral training included completion of a pharmacy residency in general medicine at the Los Angeles County / University of Southern California Medical Center, followed by two post-doctoral fellowship positions focused on pharmacokinetics & pharmacodynamics of antimicrobials and pharmacoeconomics and pharmacoepidemiology.
Dr. Wendy Duncan, PhD, will continue to serve as SVP for Academic Affairs and Provost. Dr. Duncan joined CHSU in 2015 as SVP for Academic Affairs and Provost, and has also been serving as Dean of Pharmacy since January 2018. Dr. Duncan's service as Dean of Pharmacy is greatly appreciated and the University looks forward to her focusing her time in her role as Provost. She also will continue to explore the feasibility of future academic programs to launch at CHSU in the coming years.