Watch the CHSU Hiroshima Peace Tree Planting Ceremony!
CHSU is proud to announce the planting of a "miracle" Green Legacy Hiroshima Peace Tree at its new medical school! The CHSU College of Osteopathic Medicine (CHSU-COM) debuted the Virtual Hiroshima Peace Tree planting ceremony on Thursday, August 6 at 8:15 am via Facebook. This marks the exact time that "Little Boy" was dropped by the Enola Gay over the Japanese city of Hiroshima in 1945.
In conjunction with One Sunny Day Initiatives (OSDI) and members of the local Japanese-American community, CHSU arranged to have 35 of the Hiroshima Peace trees transported to Clovis from Oregon last January. Taking one tree for their medical school, California Health Sciences University facilitated for trees to be given to Fresno State, Shinzen Friendship Garden, Fresno Bonsai Society, and the Fresno Buddhist Temple.
"We are honored to have living history growing in the new Peace Garden at our medical school for the CHSU campus community to appreciate," says Florence Dunn, President of CHSU, "This Hiroshima Peace tree will be a lasting symbol of peace, hope, and resilience and we are proud to place the Central Valley on the worldwide map for this initiative."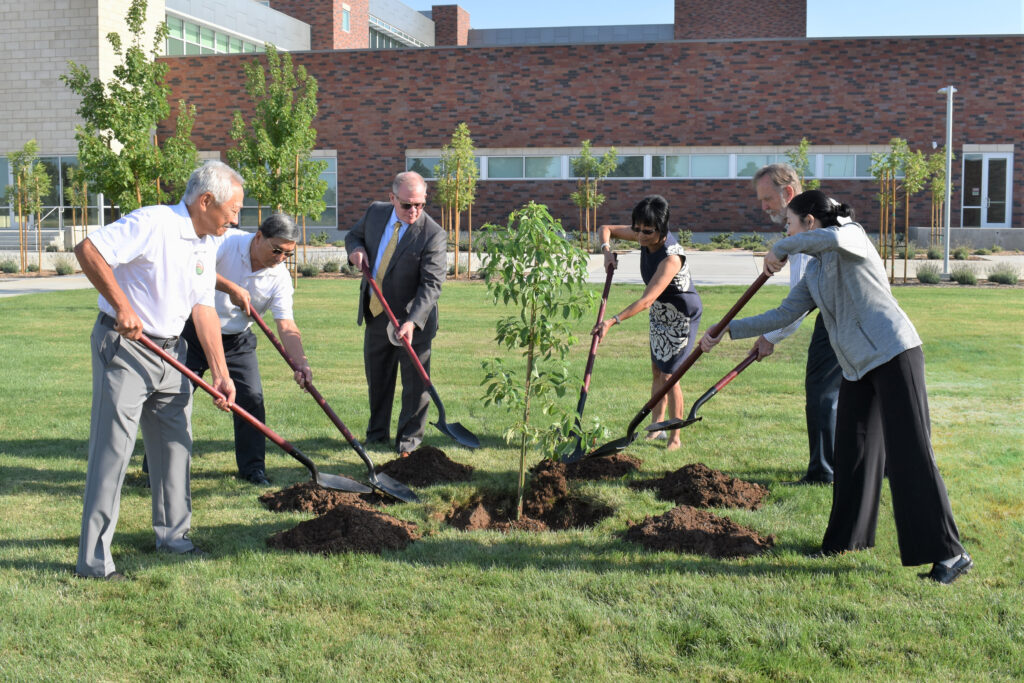 The parent tree, Cinnamomum camphora N11a17-01, is a camphor tree located 1,120 meters from the hypocenter at Hiroshima Castle (21 Motomachi, Naka-ku, Hiroshima City). This hibakujumoku, a Japanese term meaning atomic bombed tree, is one of 170 trees at 54 locations that miraculously survived the Hiroshima bombing 75 years ago.
The seeds were collected in 2015 by Green Legacy Hiroshima (GLH) and given to One Sunny Day Initiatives (OSDI) for germination and distribution in 2017. The camphor tree seeds were germinated in the Southern Oregon University green house, and later cared for by several of the OSDI Board members.
Dr. Hideko Tamura-Snider, a Hiroshima bombing survivor and founder of One Sunny Day Initiatives, served as the keynote speaker for the CHSU Hiroshima Peace Tree virtual planting ceremony. She has worked relentlessly to spread the seeds of hibakujumoku and encourage peace, hope and reconciliation to promote a world free of nuclear weapons.
"When I was a child, the universe I lived in and trusted suddenly disappeared. What I learned was that the physical world can be destroyed, but what makes us human cannot be destroyed," said Dr. Tamura-Snider.
CHSU learned about the One Sunny Day Initiatives and their efforts from Dr. Miko Rose, the daughter of Dr. Tamura-Snider, who is an osteopathic physician and colleague of Dr. Miho Yoshida, Associate Professor at CHSU-COM. A plaque displayed at the base of CHSU's Hiroshima Peace Tree includes a QR code that links to the Green Legacy Hiroshima website displaying the location of other hibakujumoku planted around the world.
The City of Clovis and the Fresno County Board of Supervisors have proclaimed the week of August 3-9, 2020 as "U.S. – Japan Peace Week" to commemorate the 75th anniversary of the Hiroshima bombing and recognize the organizations who have planted a Hiroshima Peace Tree, including California Health Sciences University, Fresno State, Shinzen Friendship Garden in Woodward Park, Fresno Buddhist Temple, United Japanese Christian Church in Clovis, and the Fowler Buddhist Church.
Special Acknowledgement
Thank you to the CHSU Leadership and Honored Guests for their Roles in the CHSU Hiroshima Peace Tree Planting:
Ms. Florence T. Dunn, President of California Health Sciences University (CHSU);
Dr. John Graneto, Dean for the CHSU College of Osteopathic Medicine;
Dr. Miho Yoshida, Chair, Osteopathic Principles and Practices and Associate Professor, CHSU College of Osteopathic Medicine;
Mr. Darius Assemi, President, Granville Homes and CHSU Founding Family
Ms. Deborah Ikeda, State Center Community College District Trustee Area 6 and CHSU Board Vice President;
Ms. Richele Kleiser, Vice President, Marketing and Communications, CHSU;
Mr. S. Thomas McLaughlin, Director of Planning of California Health Sciences University (CHSU);
Consul General MAEDA Toru, Consul General of Japan in San Francisco
Honorable Dale Ikeda, Honorary Consul of Japan in Fresno, California;
Dr. Hideko Tamura Snider, Founder, One Sunny Day Initiatives and Peace Ambassador for the city of Hiroshima
Mr. Ron Yamabe, Immediate Past President and Board Member for the Shinzen Japanese Garden in Fresno, CA;
Dr. Miko Rose, Assistant Professor, Michigan State University Department of Psychiatry and Daughter of Dr. Hideko Tamura Snider
For more information please visit the One Sunny Day Initiatives website and Green Legacy Hiroshima website