Providing Hope for Valley Patients, Over 150 Future Physicians Take Osteopathic Oath at White Coat Ceremony
October 9, 2023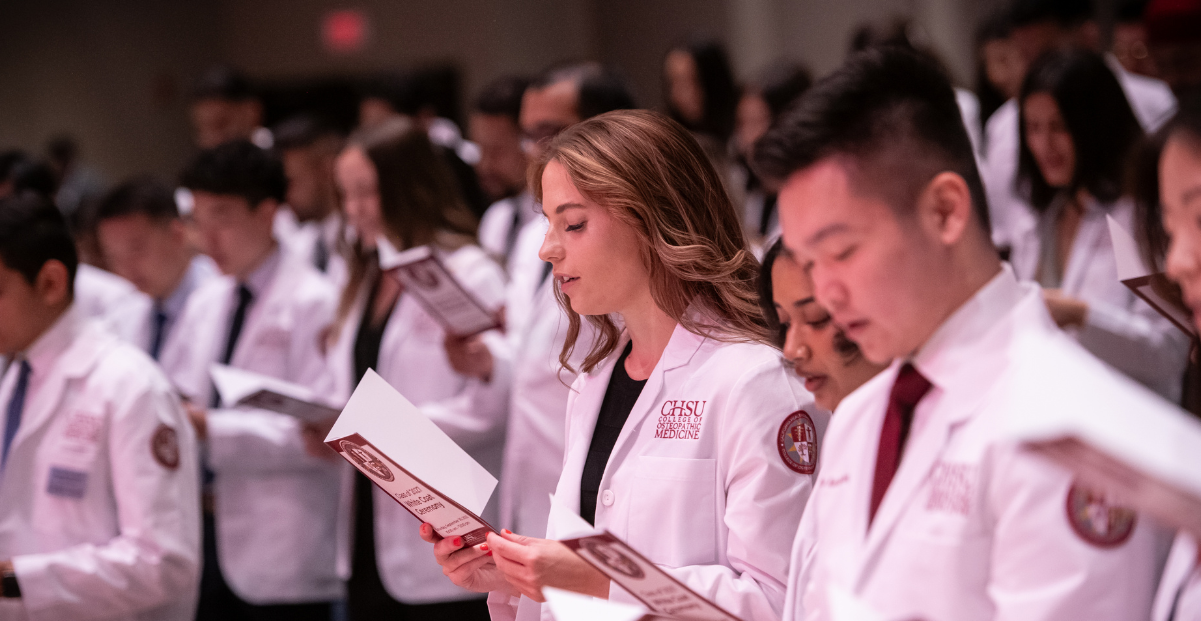 The California Health Sciences University College of Osteopathic Medicine hosted a White Coat Ceremony for its first-year medical students in the class of 2027 on Saturday, September 30.
Over 150 first-year medical students received their first white coat and took the Osteopathic Oath to preserve health and life, planting the seeds of hope for thousands of patients in the Central Valley who face health inequities and the shortage of physicians.
"I am proud that our medical students represent the diverse Central Valley populations we serve, and they have an opportunity to help address health inequities experienced in our community," said John Graneto, DO, Dean of the CHSU College of Osteopathic Medicine.
At the ceremony, Dr. Graneto shared the history of the white coat and the importance of maintaining professionalism and humanism in health care careers.
Many of the medical students are from the Central Valley and are the first in their family to pursue medical education and become physicians with the passion to build trust and provide care for local patients.
Born and raised in Porterville, Austin Jones will be the first in his family to become a physician after his parents immigrated here from South Korea.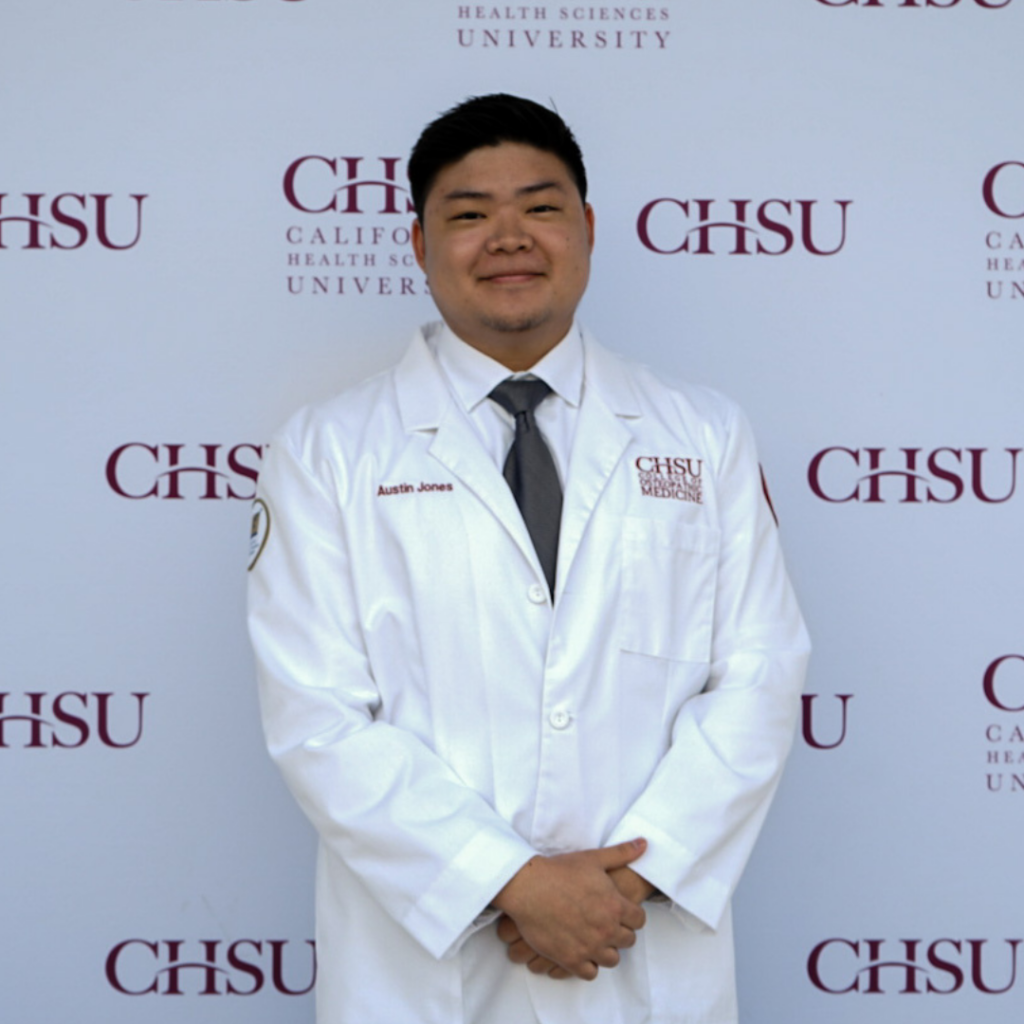 "I know what health care disparities this area faces, and to me it is personal," said Austin Jones, first-year medical student at CHSU. "If I could be a piece of the puzzle that fixes this disparity, that would be fulfilling."
Jones intends to stay here and serve the health care needs of the people he grew up with in the Valley.
"When I volunteered at my local hospital, Sierra View Medical Center, before attending CHSU, I always thought one day I'll be wearing my white coat down those halls. Now that I have my white coat, I can see myself going back there as a physician," said Jones.
Being the first in their families to become a physician often meant not having role models to guide them on their decision and path into medical school.
Roxanne Lima is a Tulare native who understands the need for Spanish-speaking physicians in her community after her parents immigrated from Guatemala.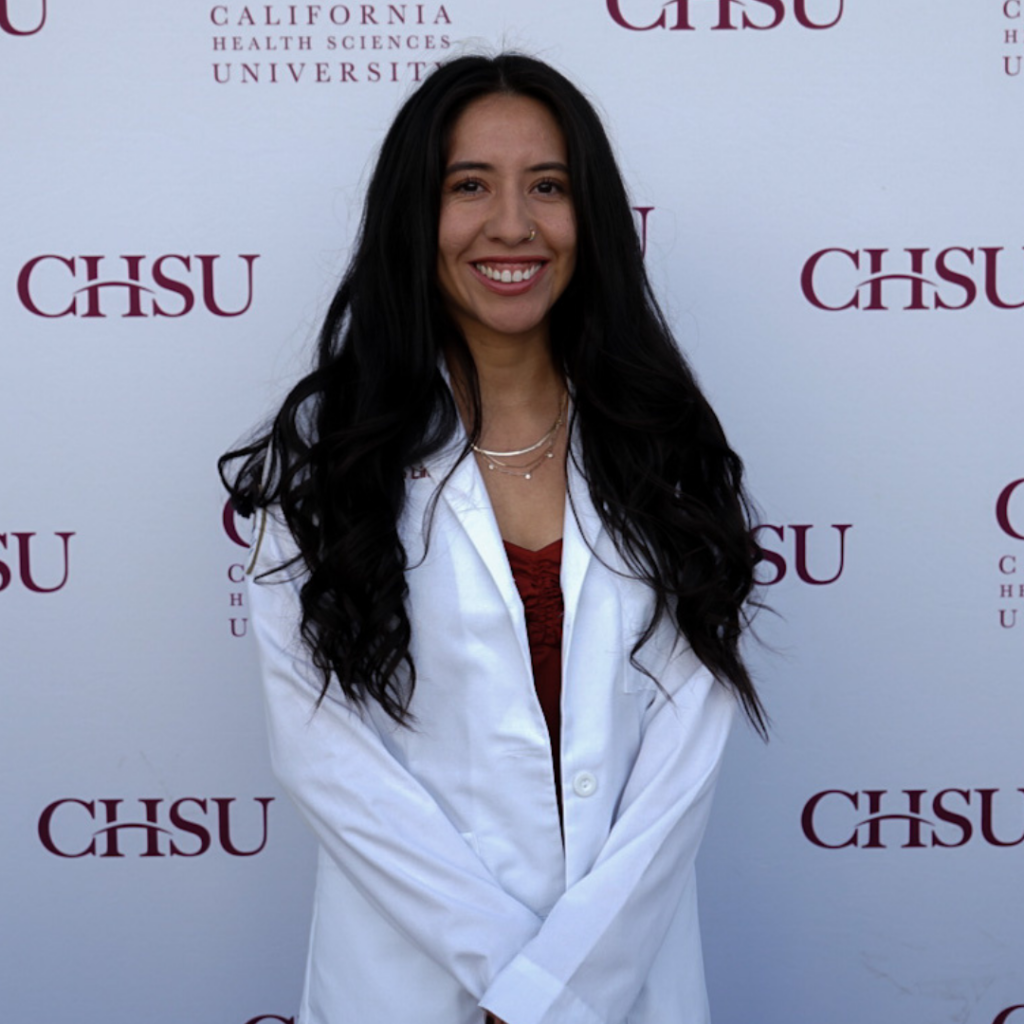 "The people I grew up with are all farm workers, so I never even considered that becoming a physician was a career for me because of my background," said Roxanne Lima, first-year medical student at CHSU. "After volunteering and becoming the Assistant Manager for C.A.R.E, a cancer wellness group for Spanish-speaking patients, at the Zuckerberg San Francisco General Hospital, I realized that having those relationships with them confirmed that I was moving in the right direction to give back to my community through healthcare."
Attending CHSU as a medical student has brought Lima one step forward towards her career while remaining close to her family and community.
"Wearing this white coat lets me see that the long journey of becoming a physician is worth it," said Lima.
She added, "My ultimate goal is to serve the Latino community because I know how important it is to have that cultural understanding. I want to be that person they can trust and help them become healthier individuals."
Coming from a Hmong family of farm workers in Sanger, Gigi Douachi Thao is also the first in her family to attend medical school without healthcare role models from her family. She was inspired to become a physician and serve the local Hmong population because of her pediatrician from the Central Valley. But it took many years to discover her path into medical school.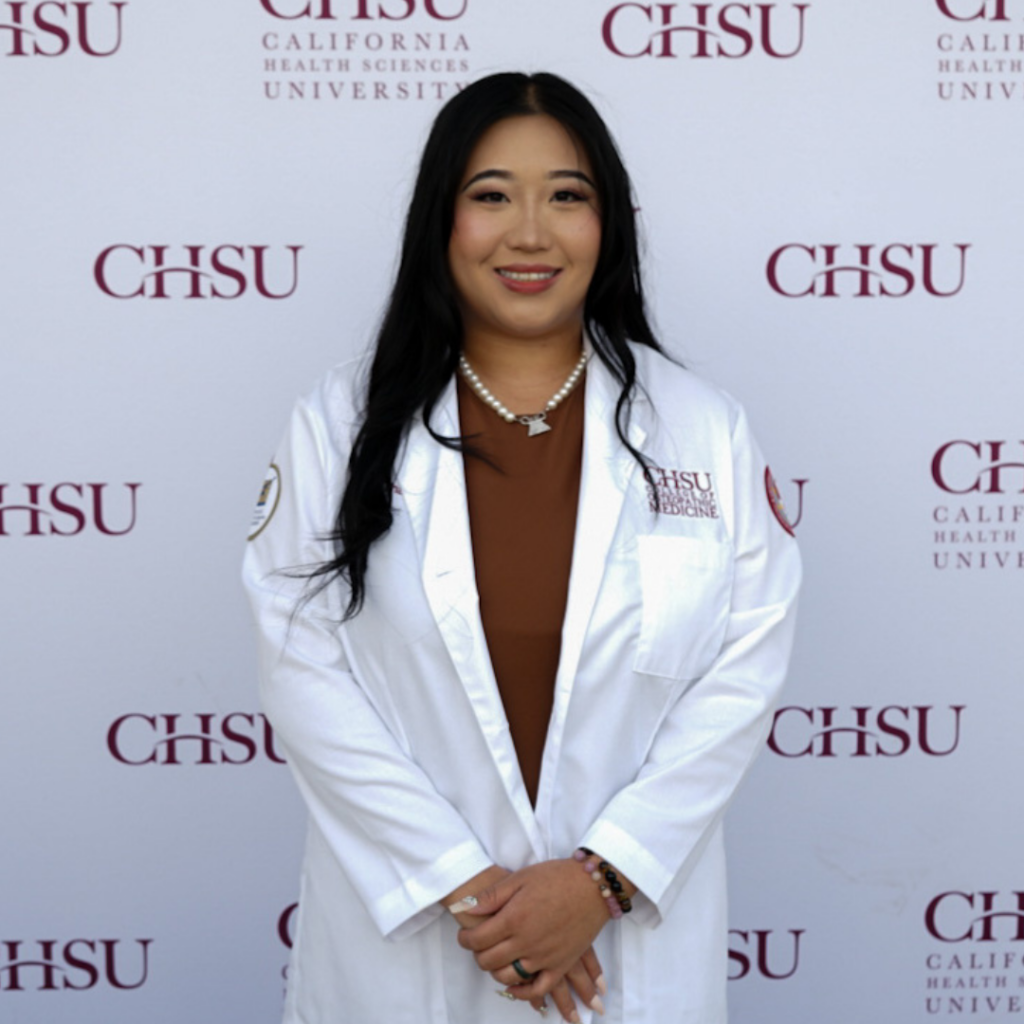 "My parents are Hmong farm workers, so my obstacle was figuring out how to become a doctor by myself. That's why I'm a nontraditional student," said Gigi Douachi Thao, first-year medical student at CHSU. "It took me longer to understand the steps on how to do well on my application and tests for medical school."
Thao enrolled into Cal State East Bay's Pre-Professional Health Academic Program, which gave her the confidence to pursue medical school.
"I chose to attend CHSU because of the nearby local Hmong population that I can continue volunteering to serve while I'm in medical school," said Thao. "This white coat means I have the opportunity to accomplish my dreams of serving my Hmong community as their provider. I plan to apply for an Emergency Medicine residency in the Central Valley because I want to be that physician who connects patients with resources when they're feeling troubled."
With the severe shortage of physicians in the Central Valley, it is common for medical students, like Jones, Lima, and Thao, to grow up without physician role models. However, the CHSU campus community of physician and scientist faculty, physician preceptors, and other systems of support, help medical students become successful professionals ready to serve the health care needs of the community.
Dr. Alan Shatzel is one example of an osteopathic physician who is dedicated to helping the next generation of physicians succeed. At the White Coat Ceremony, Dr. Shatzel provided an inspiring welcome address and spoke about his personal journey through medical school and how osteopathic medicine helps him provide better care for his patients.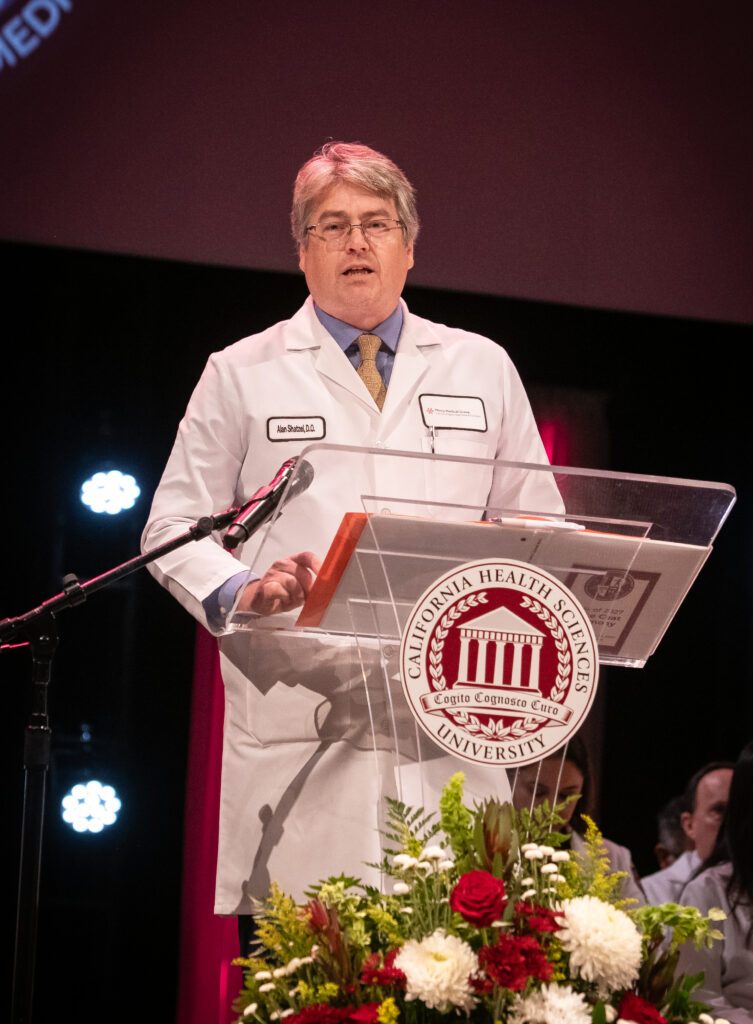 "Being an excellent physician and practicing osteopathic medicine requires authentic connections. Osteopathic physicians are known for our passion, active listening, and genuine care and concern for our patients," said Alan Shatzel, DO, MBA, Chief Executive Officer for Mercy Medical Group. "Your osteopathic profession is an ongoing journey of learning, honor, humility, and a chance to make even the smallest difference in the lives of our communities and the patients you will serve."
Dr. Shatzel also serves as the Second Vice-President of the Osteopathic Physicians and Surgeons of California And holds board certifications in Neurology, Sleep Medicine, and Clinical Neurophysiology.
The white coats were generously sponsored by the Osteopathic Physicians and Surgeons of California, an organization focused on advancing and supporting osteopathic physicians in California by serving its mission to engage, educate, and advocate for DOs, so doctors can focus on being doctors. Founded in 1961, the association serves over 9,000 current and future doctors of osteopathic medicine throughout California.