Sanger Native Accelerates Her Pathway to a Pharmacy Career
July 14, 2020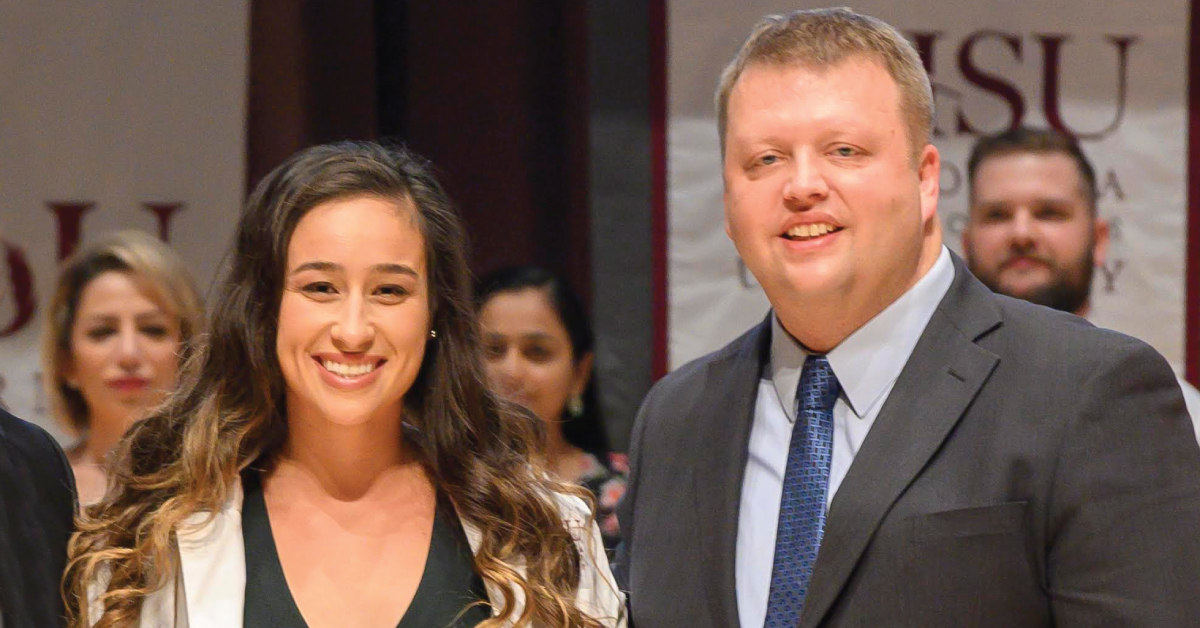 Savannah Mangrum, recent graduate from Fresno Pacific University (FPU) and now a CHSU College of Pharmacy second year (P2) student, has spent her academic career looking to challenge herself. So when she was offered the opportunity to participate in the CHSU/FPU Accelerated Pathway Program, she seized the opportunity.
The CHSU/FPU Accelerated Pathway Program is a way for an undergraduate student to earn their B.S. in Pharmaceutical Sciences at Fresno Pacific University and their Doctor of Pharmacy (PharmD) degree from CHSU in just seven years. Students in this program complete their undergraduate education in only three years at FPU, then begin their four-year program at the CHSU College of Pharmacy. After the students complete their first year in the CHSU Doctor of Pharmacy program, FPU awards the bachelor's degree. Savannah is the first student to matriculate at CHSU through this program and she received her bachelor's degree from FPU in Spring 2020.
"It's an amazing opportunity and I would recommend it to anybody interested in earning their PharmD degree. I've always been really driven, so I liked the challenge of finishing my degree in three years and then attending CHSU a year early," said Savannah.
Savannah was offered an athletic and academic scholarship to Fresno Pacific University and chose to attend FPU because of its smaller school culture and faith-based values. During her undergrad, she managed to juggle an accelerated course load and played on the water polo team.
"Savannah managed a demanding athletic schedule with early morning workouts and rigorous courses. She listened attentively, had solid analytical abilities and contextual understanding. These are qualities I associate with those I know in health care," said Dr. Greg Camp, Associate Dean, School of Humanities, Religion and Social Sciences at Fresno Pacific University.
She learned about the CHSU/FPU Accelerated Pathway Program after she attended a presentation by CHSU College of Pharmacy admissions advisors. After hearing about the program's rigorous schedule and the benefits of starting her pharmacy education sooner, Savannah decided to apply
"Her professional demeanor and engagement in the CHSU program seemed a strong indication that Savannah had potential and that CHSU was helping to realize it," said Dr. Alan Thompson, Associate Professor of Biology and Program Director, Pharmaceutical Science, Pre-Health Sciences and Biology B.A. at Fresno Pacific University.
The presentation was just the beginning of Savannah's journey into the pharmacy program.
"I really liked the people I met from CHSU and when I toured the CHSU campus, it seemed like a professional school I would enjoy attending," said Savannah.
She became the first to be accepted into the CHSU/FPU Accelerated Pathway Program. Throughout her first year in pharmacy school, Savannah immersed herself in her studies, joined Phi Delta Chi, was elected to the board of the CHSU chapter of SNPhA, and joined the CHSU Student Ambassador program.
"Savannah is an incredibly hard worker and is dedicated to her studies," said Dr. Maya Leiva, Assistant Professor of Clinical Sciences at the CHSU College of Pharmacy, "She has the right personality type to handle the academic rigor of pharmacy school and she also has that compassion for others which is going to translate well when she is working with patients."
Savannah always knew she wanted to pursue a career in the medical field. Growing up in Sanger, she spent a lot of time caring for and administering medications to the animals on her family's farm. She learned how to stitch wounds, nurse injuries, and administer vaccinations to the horses, sheep, cats, and dogs they owned. This sparked her interest in becoming a health care professional.
"I was fascinated at how medications worked and I wanted to understand more about it, specifically how it applies to people. That's why I chose to pursue becoming a pharmacist," said Savannah.
Currently, Savannah is preparing to start her P2 year at CHSU and is working as an Intern Pharmacist at Model Drug in Kingsburg where she packages medications for nursing home residents, puts together e-kits (emergency medication kits) and fills prescriptions.
She says her ultimate career goal is to become a pediatric pharmacist since she has always had a passion for helping kids. Savannah plans to graduate from the CHSU College of Pharmacy program in 2023.