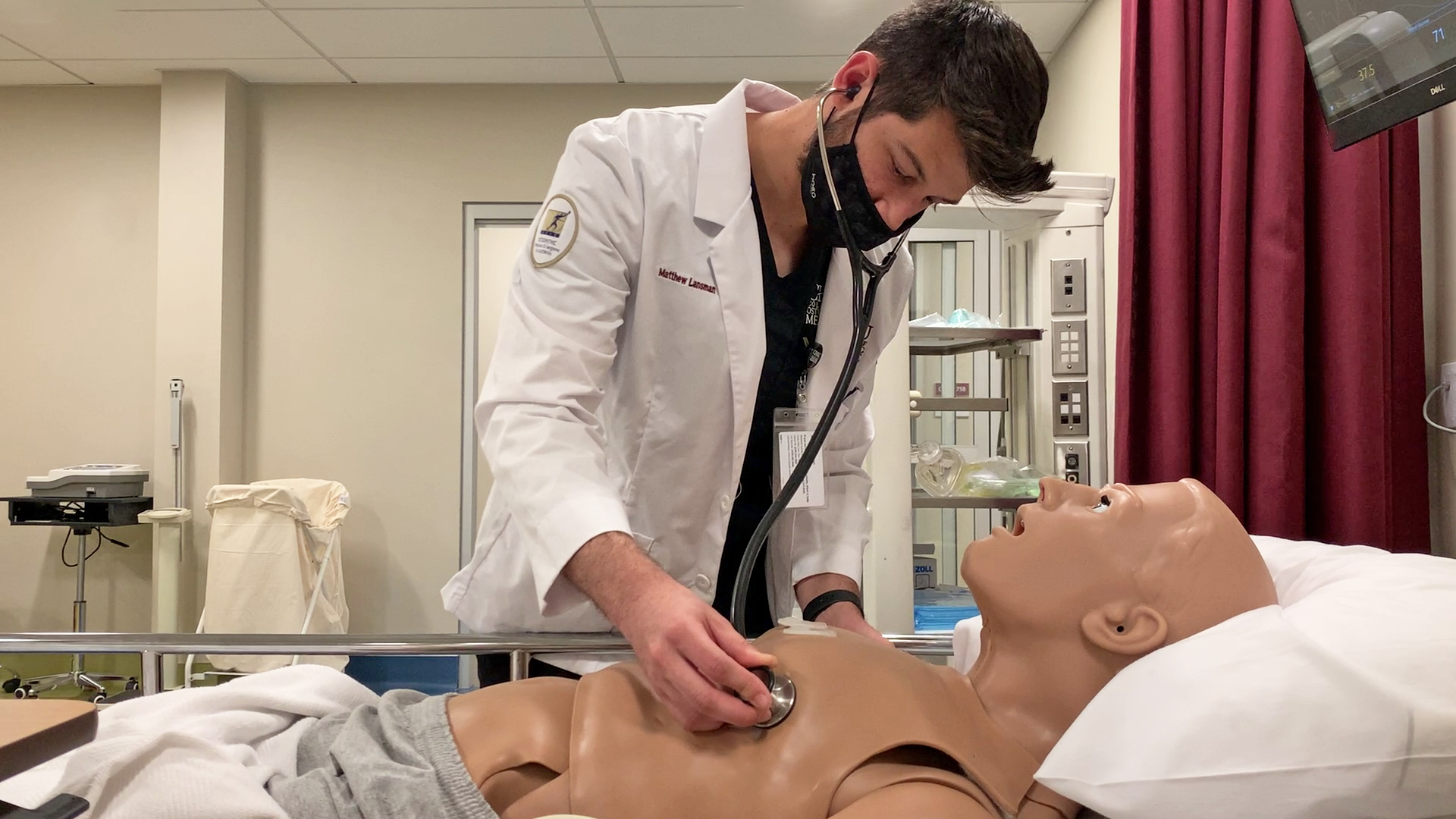 About The
Simulation CEnter
Committed to improving health care by educating the Central Valley's future doctors and pharmacists.
About the Simulation Center
CHSU's state-of-the-art, 21,000 square foot Simulation Center is located inside the College of Osteopathic Medicine building and features two highly functional labs and several other simulated-learning areas:
In-Patient Wing modeled to resemble the hospital environment
Out-Patient Wing designed to resemble a clinic or doctor's office
Anatomy classroom where HoloLens™ Augmented Reality will be used
Virtual classroom with trainers and hands-on anatomy simulators
Our innovative Simulation Center was meticulously planned to enhance the interactive learning needs of today's students, particularly concerning the foundations of medical and clinical wisdom.
Research has shown that using interactive simulation experiences in conjunction with classroom learning develops better prepared clinical practitioners while improving quality health care, education, and patient safety. An interprofessional medical education curriculum includes multiple simulation-based learning modalities which is why simulation is an essential part of our University program. The integral parts of the CHSU Simulation Center program are foundational adult learning theory, Standards of Best Practice in Simulation, Standards of Best Practice for Standardized Patients, and Core Competencies for Interprofessional Collaborative Practice.
The CHSU Simulation Center is also dedicated to education beyond its doors. There will be many opportunities for the community to collaborate with simulation and health care experts in simulation-based educational experiences within the Simulation Center and simulation education training. If you are interested in learning more about how you can collaborate with us, please visit our Community Education and Training page.
Mission and Vision
Mission
We will be a model of interprofessional simulation that will:
Inspire participants to apply knowledge with hands-on skills practice
Develop interactive learning with simulation-based experiences
Empower compassionate, highly trained, intellectually curious members of the healthcare team
Vision
The CHSU Simulation Center aims to serve as the leader for healthcare simulation in California.
Location
College of Osteopathic Medicine Building
2500 Alluvial Ave
Clovis, CA 93611
559-712-4200
simulationcenter@chsu.edu
CHSU Simulation Advisory Council
The purpose of the CHSU Simulation Center and Program Advisory Council is to represent the community at large, champion simulation-based learning and counsel effective integration of simulation-based learning activities into the CHSU medical student curriculum. The Council provides guidance in shaping the course of interprofessional simulation healthcare education, operating procedures, and future planning and evaluation to the CHSU Simulation staff and faculty.
We are grateful to the following individuals that currently serve on the CHSU Simulation Advisory Council:
2021 Simulation Advisory Council
Chair of the Council:
Leslie Catron, M.A.ED, BSN, RN, CHSE
Simulation Center Director, Clinical Instructor; CHSU
Council Members:
Kimberly Bilskey, MSN, RN, CHSE
Simulation Coordinator, Critical Care Clinical Education Specialist (ED, NICU, PICU); Valley Children's Healthcare
Kitty Cazares, MSN
Nursing Program Director; Merced Community College
Lisa Chun, D.O., MS.MEdl, FNAOME, CPE, OHPF
Associate Dean of Osteopathic Clinical Education and Simulation, Associate Professor; CHSU
Grace Durham, MSN
Director Skills and Simulation Lab; National University, Fresno Campus
Darrell Fifield
Standardized Patient; CHSU
Marie Gilbert, DNP, RN, CHSE
Director, Central California Center for Excellence in Nursing; California State University, Fresno
Ralph Herrera, B.S.
Simulation Specialist, Operations; CHSU
Lisa Hood, CNP, MSA, RN, FNP-C
Director, MSN/Family Nurse Practitioner Program, Assistant Professor of Nursing; Saint Agnes Medical Center
Lindsey Johnson, B.A.
Biomedicine Lab Instructor; The Center for Advanced Research and Technology
William Kim
CHSU-COM Student Doctor, Class of 2024; CHSU
Tara Lemoine, D.O., Fellow in Simulation Education and Research
Medical Simulation Director, Pediatric Intensivist; Valley Children's Healthcare
Thayer Merritt, B.A.
Simulation Specialist, Mixed Media; CHSU
Catherine Milburn, EMT-P
Paramedic, EMS Instructor; West Hills College, Lemoore
Yoshihiro Ozaki, D.O., FAAP
Adjunct Assistant Professor, Primary Care; CHSU
Hospitalist; Valley Children's Healthcare
Lorilee Perry, BSN, MSN, FNP, CNS
Assistant Professor of Clinical Sciences; CHSU
Shelvia Salvano, BSN, RN
Simulation Coordinator; Gurnick Medical Academy
Kimberly Sokol, M.D., MS, Fellow in Emergency Medical Simulation
Director of Medical Simulation, GME Emergency Medicine Faculty; Kaweah Delta Hospital
Nanami Yoshioka, M.A.
Standardized Patient Educator; CHSU
2020 Simulation Advisory Council
Chair of the Council:
Leslie Catron, M.A.ED, BSN, RN, CHSE
Instructor, Simulation Center Director; CHSU
Council Members:
Kimberly Bilskey, MSN, RN, CHSE
Simulation Manager; Valley Children's Healthcare
Kitty Cazares, MSN
Nursing Program Director; Merced Community College
Sydnei Fox, PharmD
Assistant Professor, College of Pharmacy Department of Clinical Sciences; CHSU
Marie Gilbert, DNP, RN, CHSE
Director, Central California Center for Excellence in Nursing; California State University, Fresno
Ruqayya Gill, D.O.
Adjunct Assistant Professor, Specialty Medicine; CHSU
Ralph Herrera, B.S.
Simulation Specialist, Operations; CHSU
Simon Holguin, LNHA, RCFE
SNF Administrator/Executive Director; Bethel Lutheran Home
Lisa Hood, CNP, MSA, RN, FNP-C
Nurse Practitioner; Madera Community Hospital
Lindsey Johnson, B.A.
Biomedicine Lab Instructor; The Center for Advanced Research and Technology
Tara Lemoine, D.O., Fellow in Simulation Education and Research
Medical Simulation Director, Pediatric Intensivist; Valley Children's Healthcare
Thayer Merritt, B.A.
Simulation Specialist, Mixed Media; CHSU
Whitney Rodriguez
Paramedic, EMS Education Coordinator; American Ambulance
Angela Rosati, MSN, RN, CCRN, CNRN, SCRN
Adjunct Medical Surgical Faculty; West Hills College Lemoore, Kaweah Delta Hospital
Shelvia Salvano, BSN, RN
Simulation Coordinator; Gurnick Medical Academy
Kimberly Sokol, M.D., MS, Fellow in Emergency Medical Simulation
Director, Medical Simulation; Kaweah Delta Hospital
Nanami Yoshioka, M.A.
Standardized Patient Educator; CHSU