2020 Grad Stories: Kenya Covarrubias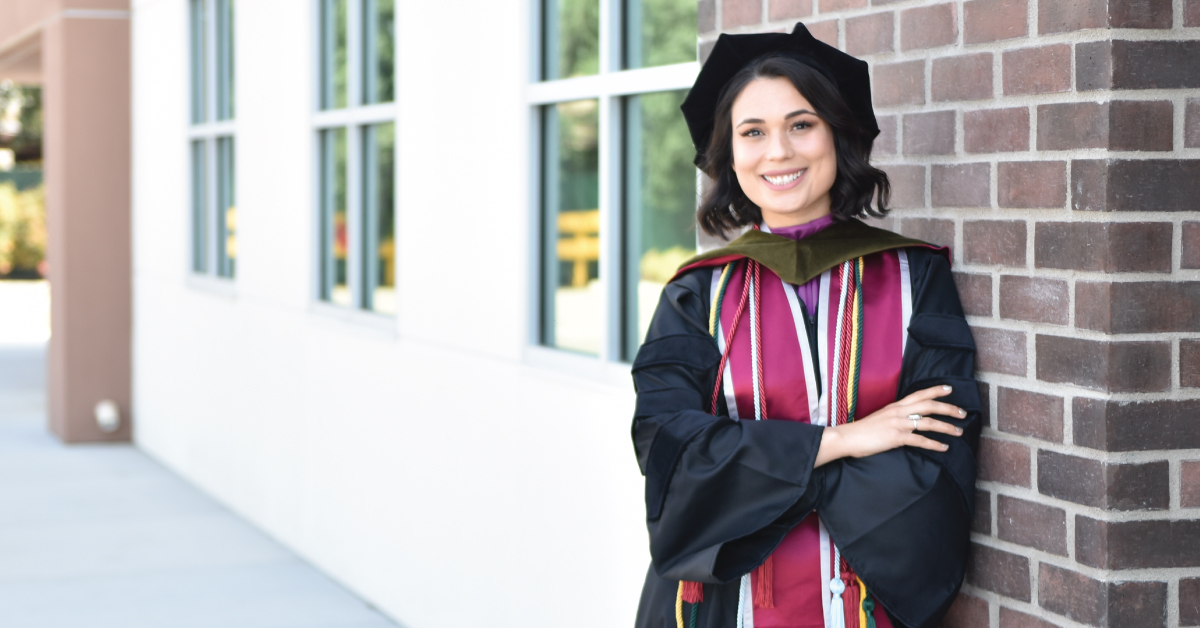 Breaking the Language Barrier in Pharmacy
For Dr. Kenya Covarrubias, CHSU College of Pharmacy graduate, helping the undeserved community is a passion and her calling. Dr. Covarrubias was born in the US, but was raised in Sinaloa, Mexico. At the age of 16, she decided to give up the world she knew and to move to the Central Valley to live with her aunt and uncle and learn English. Despite the struggle to learn a brand-new language and earn good grades, Dr. Covarrubias became a high school valedictorian at Washington Union High School.
She credits a few close mentors from her high school for helping her succeed in school and navigate the college and financial aid application processes to become a first-generation college student. She double majored in Chemistry and Biology at Fresno State, and after receiving her Bachelor's degree, was accepted into the CHSU College of Pharmacy program.
While in college, Dr. Covarrubias was offered an opportunity to participate in a cancer research project that studied the link between pesticide exposure and breast and prostate cancer amongst the farm-working, Hispanic community in the Valley. Since most of her family worked in the fields she jumped at the opportunity. Family is an extremely important part of who she is, and she credits her family and their enduring support for her successes.
"I didn't get here by myself. There were many, many people that had my back throughout the way."
In her time at CHSU she made significant contributions to building healthcare and pharmacy educational programs for our community, particularly for underserved populations like the Hispanic community in the Central Valley.
She served as a lead mentor for the CHSU/CVS Próspero Program, a pathway program to prepare high school and undergraduate college students for a career in pharmacy, and her contributions really helped to successfully launch the new program. Two of her Próspero program mentees will be applying to the CHSU College of Pharmacy for Fall 2021.
Another one of her significant achievements was helping develop Camp FutureRx, a three-day camp designed to introduce underserved high school students, especially those in the Migrant Education program, to pharmacy and health care as part of the SNPhA Prescription for Service Competition. She and her team of CHSU colleagues became Region Five finalists and subsequently won second place in the National Competition. Camp FutureRx continues to be offered and is working on its fourth year.
"We were so committed to launching this program, we kind of forgot that it was a competition until we went to the national conference. The judges recognized that getting people to commit to a three-day camp and getting the parents to be involved is not easy. Our group of five women, who were first year students in pharmacy school, were able to get twenty parents together and make this huge commitment. The judges wanted to let us know we were making a difference."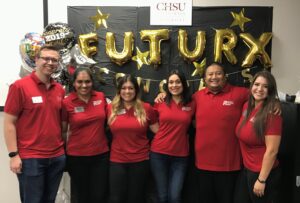 Dr. Covarrubias also initiated CHSU's partnership with the Fresno Unified School District Migrant Education Program that meets once a month to provide blood pressure and glucose screenings, health education, dietary coaching, and introduce parents to the opportunities their children have in higher education and healthcare careers.
In her third year of volunteering at the Migrant Parent Meetings, one parent told her that he remembered her from the very first day she started volunteering. She had taken his blood pressure, and it was too high. He said that after Dr. Covarrubias had explained to him how he could lower his blood pressure, he decided to eat healthier, exercise more, and encourage his family to do the same, because he didn't want to have to come back every month and tell her that his blood pressure was still high.
"I feel like as health professionals, everyone's goal is to change the world and to save lives. But sometimes that goal seems too big and too ambitious. It's not about that. It's never really about saving the world. It's about saving that one person you made a connection with. And when this parent came up to me, and he told me 'I remember you, and I've been doing this because you were here to tell me about healthy lifestyles,' I think that was a moment where I realized that my passion met my talent."
Dr. Covarrubias plans to stay in the Central Valley and practice pharmacy in the place that has made such an impact in her life.
"I know I want to stay here in the Valley. I feel like I have this strong connection. I feel like it's my calling."
In her role as a pharmacist, she says she wants to make sure there is never someone out there that feels like they can't get their medication questions answered because nobody speaks the language that they do. She hopes that the next generation sees that they too can have a career in healthcare.
"I hope that somebody out there hears my story and they feel that now something is more obtainable."
Dr. Kenya Covarrubias will be graduating this Thursday, May 14, 2020 with her Doctor of Pharmacy (PharmD) from CHSU.
The 2020 Grad Stories is a series dedicated to honoring our California Health Sciences University (CHSU) Doctor of Pharmacy graduates and showcasing their accomplishments throughout their time at CHSU while earning their PharmD degree.