CHSU Pharmacy and Medical Students Vaccinate Teachers with Adventist Health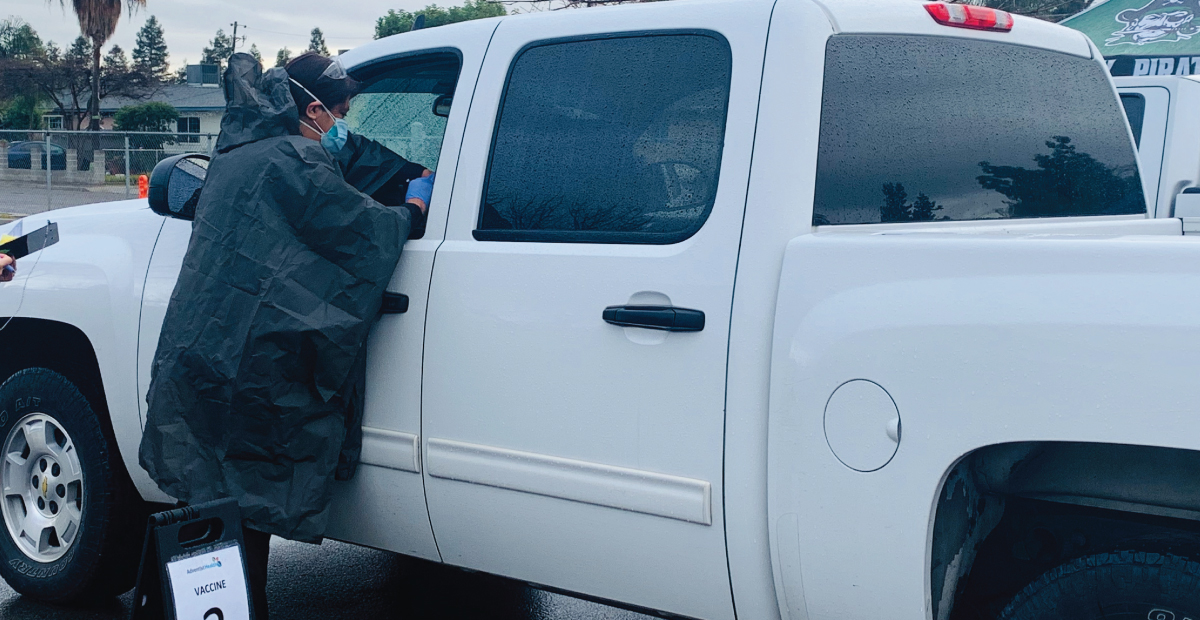 Adventist Health Reedley, in partnership with Kings Canyon Unified School District, held a drive-through COVID-19 vaccination event on January 23, 2021. Together with Adventist Health physicians and pharmacists, CHSU pharmacy students and visiting medical students helped vaccinate 500 of the district's teachers and staff during the drive-through clinic. Teachers and educators are eligible to receive the vaccine under California's Phase 1B tier.
Student volunteers from the CHSU College of Pharmacy included Ryan Penn (P4), Adrienne Cruz (P2), Maria Altamirano-Castellanos (P2), Na Li (P2), and Roxanne Dekker (P2). The CHSU Pharmacy students helped draw vaccines, provided additional vaccine administration support to the Adventist Health pharmacy team, and prepared the CDC cards for newly vaccinated patients.
"Having the opportunity to provide support to the community and providing hope to everyone that we vaccinated is why I volunteered my time during this rainy cold day outside. Making a difference in people's lives is why I am a health care professional," said Dekker.
Four of the visiting medical students that CHSU hosts from the Kansas City University of Medicine's College of Osteopathic Medicine (KCU) and A.T. Still University – Kirksville College of Osteopathic Medicine (ATSU) also assisted at the event.
Andrew Torres (ATSU), Blake Durnell (ATSU), Jose Garcia (KCU), and Bikash Adhikari (ATSU) partnered with the Adventist Health resident physicians and Family Medicine Residency program directors to assist patients during the registration process and discuss potential adverse side-effects and allergies to the vaccine. They also monitored patients after the vaccination.
The inclement weather posed some challenges to the team and caused a slight delay as they worked diligently to administer the vaccines. Despite the challenges, the event ran so efficiently it was able to be completed two hours ahead of schedule.
"I was impressed that the patients receiving the vaccine were very understanding about the delayed process and their expression of gratitude over us taking our Saturday to help them was overwhelming," said Altamirano-Castellanos. "I wanted to be part of the solution to COVID-19 in any capacity instead of just being idle."
"We were so thankful to have these students' support, as this was our first vaccination event of this scale," said Gabriela Ornelas, Communication Manager at Adventist Health in the Central Valley. "We are currently planning additional events in each county that we serve and will be releasing more information as it's made available."
Read more about CHSU's efforts to help administer the COVID-19 vaccine on the CHSU blog.