CHSU-COM Admissions Hosts Quarterly Pre-Health Advisor Forums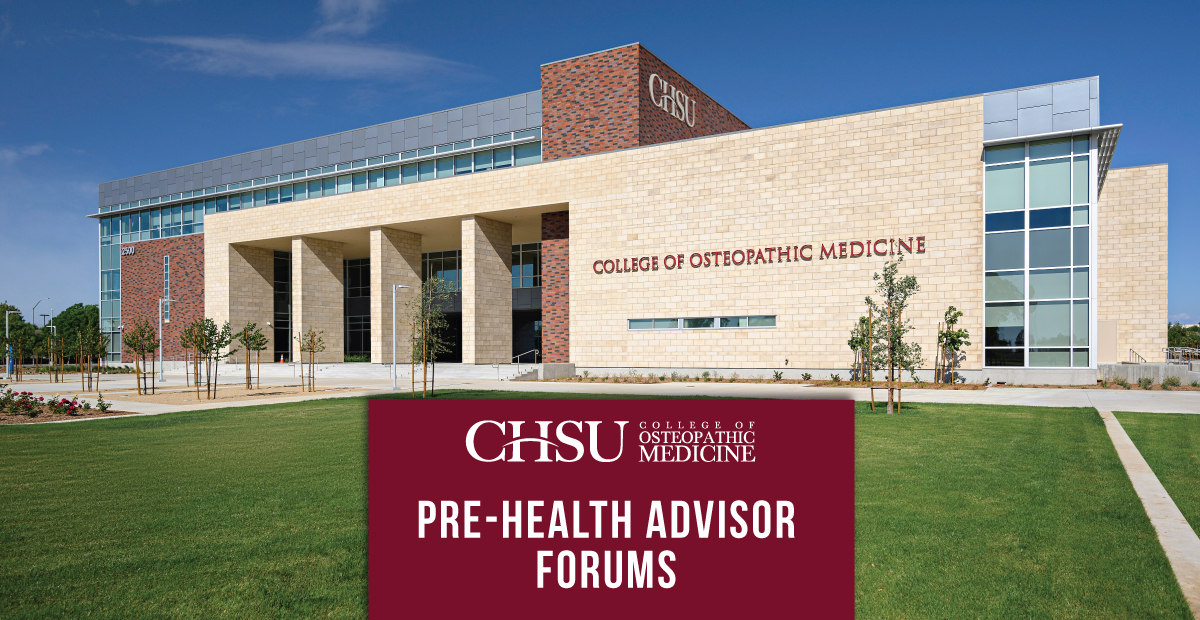 Pre-Health advisors are often the first people a pre-med student contacts at their undergraduate college for assistance with medical school applications. To help advisors gain a deeper understanding of the medical school admissions process, the California Health Sciences University College of Osteopathic Medicine (CHSU-COM) hosts quarterly forums to inform advisors of the most up-to-date application process information and medical school news.
On January 14, 2021, the CHSU-COM Admissions team hosted another quarterly virtual forum for Pre-Health advisors to receive more information about how to prepare their local college students for attending medical school.
Ten advisors from around the Central Valley and California were in attendance, including both seasoned advisors and those who are new to the field from Fresno Pacific University, UC Merced, CSU Stanislaus, UC Davis, Cal Poly San Luis Obispo, UCLA, CSU Monterey Bay, and University of Nevada, Las Vegas.
These quarterly forums are designed to introduce undergraduate Pre-Health advisors to the CHSU-COM Doctor of Osteopathic Medicine program, the field of osteopathic medicine, and update them on the newest things happening on the CHSU campus. The advisors then share the most current and relevant information with their pre-med students.
Pre-Health advisors are in a unique position to help their pre-med students succeed in their academic health care career. During the forum, the Admissions team discusses the difference between the limited advice that the Admissions staff can provide to individual students, versus the personalized mentoring and guidance that advisors can provide to their students.
Throughout the forum, advisors learn about the CHSU-COM admissions process, general medical school admissions requirements, and applying to medical school through the AACOMAS application system. There is an opportunity for open discussion about how advisors can help their students prepare for the application process.
They also receive insight on how to encourage and support first generation students, and those in underrepresented backgrounds, to enter the field of medicine.
The CHSU-COM Office of Admissions hosts these forums quarterly with a slightly different focus in each session, so attendees are encouraged to attend each forum for access to the best information.
Both advisors and pre-health clubs are encouraged to contact the Admissions team at COMAdmissions@chsu.edu to discuss a presentation for their campus or answer any questions they may have about CHSU-COM or the admissions process.
Separate quarterly CHSU-COM Virtual Info Nights are offered to prospective applicants, where they receive an interactive introduction to the CHSU-COM program and its curriculum. For more details visit osteopathic.chsu.edu/info-night.