Bill Smittcamp and Lynnette Zelezny Join CHSU Board of Trustees
June 8, 2021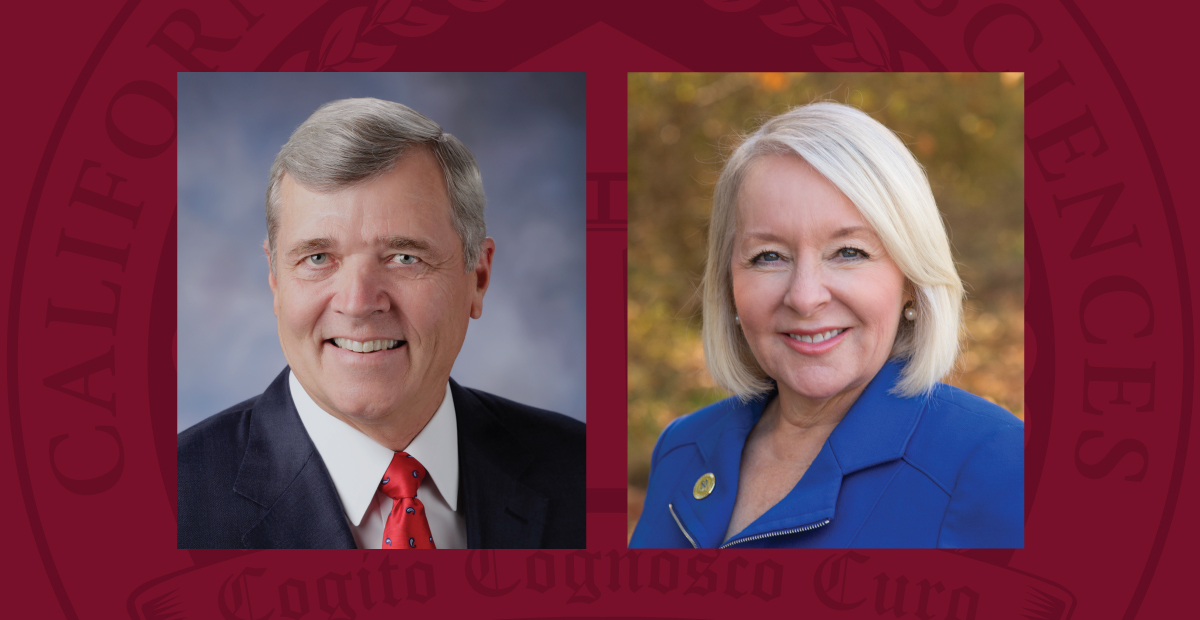 California Health Sciences University (CHSU) is pleased to announce the appointment of two new trustees to their Board: Mr. Bill Smittcamp, President and CEO of Wawona Frozen Foods, and Dr. Lynnette Zelezny, President of California State University, Bakersfield.
"It is my honor to welcome new CHSU trustees, Mr. Bill Smittcamp and Dr. Lynnette Zelezny," stated Florence Dunn, CHSU President. "With their impressive contributions to our Valley and robust experience in health care, education, and leadership, they will round out our already stellar Board."
Mr. Bill Smittcamp is president and CEO of Wawona Frozen Foods, a local, family-owned company that grows, processes and supplies frozen fruit products worldwide. Wawona Frozen Foods under Smittcamp's leadership has grown to be the largest frozen freestone peach processor in the nation, processing over 65 million pounds of peaches along with 20 million pounds of strawberries and other fruits. Collectively the company ships more than 125 million pounds of frozen products annual supplying major pie, yogurt, ice cream, food service, retail trade customers with fresh frozen fruit.
Mr. Smittcamp is a proud graduate of California State University, Fresno. He serves on the Board of Trustees for Valley Children's Health Care, Board of Governors of Fresno State, Central Valley Community Bank Board, and Board member of the Garfield Water District.
Dr. Lynnette Zelezny was appointed to serve as the fifth president of California State University, Bakersfield, and is the first woman to serve in the role. She has devoted her entire professional life – first in her 30-year career at CSU Fresno and now at CSU Bakersfield — working to raise the educational level of students throughout California's Central Valley and developing graduates who turn into leaders, decision makers and contributors to communities in the region.
Dr. Zelezny earned her bachelor's and master's degrees in psychology from Humboldt State University, a PhD in applied social psychology from Claremont Graduate University and an MBA with distinction from the Craig School of Business at Fresno State.
New Board Officers Announced
CHSU also announced that Ms. Deborah Ikeda, will serve as Board Chair after serving as Vice Chair for 8 years. Ms. Ikeda serves at State Center Community College District Trustee Area 6 and is President Emeritus of Clovis Community College.
Dr. John Welty, immediate past Board Chair, served that role since CHSU was founded and his guidance and leadership has been instrumental in the university's success. Dr. Welty will continue to serve as a trustee.
Dr. Kristen Watson, President and CEO, Kern Community Foundation, will now serve as Vice Chair and Susan Abundis, (Retired) SVP and Division Credit Manager, Bank of the West Agribusiness Division, will serve as Secretary.
Mary Contreras, (Retired) Chief Nursing Officer at Community Medical Centers, is retiring from the CHSU Board of Trustees after 5 years of service. Her contributions to CHSU are very much appreciated.
More about the CHSU Board of Trustees can be found on the CHSU Board of Trustees page.