CHSU Medical Student, Christina Su, Receives 2023 Excellence in Public Health Award
May 24, 2023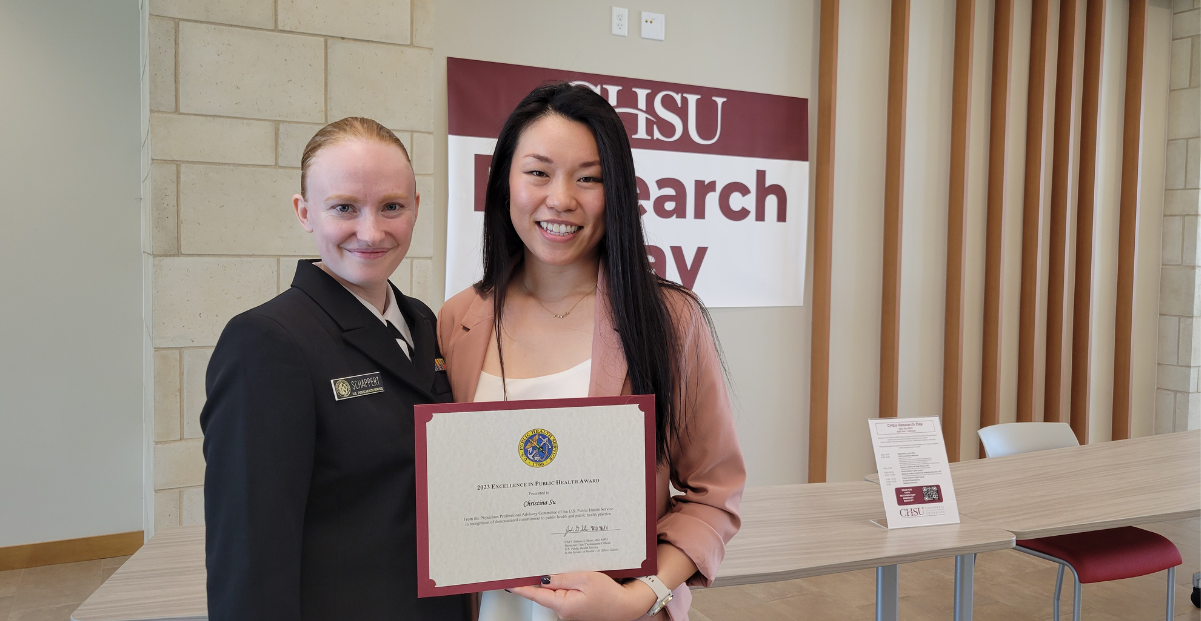 Christina Su, second year medical student at the California Health Sciences University College of Osteopathic Medicine (CHSU-COM), was honored with the 2023 Excellence in Public Health Award from the U.S. Public Health Service Physician Professional Advisory Committee.
This prestigious award was given to Su at a special award presentation held during the CHSU Research Day on May 20, 2023.
Christina Su was presented with the 2023 Excellence in Public Health Award by Alexa Schappert, DVM, MPH, a lieutenant in the United States Public Health Service who serves as a Supervisory Public Health Veterinarian in the OFO Alameda District of the Food Safety and Inspection Service of the USDA.
"She's done some amazing work in the area of public health that has really embodied what the Commission Corps is doing and how we serve the population. I think she will have a very long career in serving the public," said LT Schappert.
Originally from Santa Ana, California, Christina Su received her Bachelor of Science degree from the University of California in Irvine. She then attended the Icahn School of Medicine at Mount Sinai for her Master of Public Health before starting at CHSU in 2021.
Her prior experience in Public Health has served as a foundation for her work in medical school.
During her Physician's Role in the Health System courses at CHSU, she worked on a project to address physicians' knowledge on food insecurity in Merced and Stanislaus counties. The project's purpose was to understand the gap between what patients are experiencing and what physicians know to build a foundation for further research.
"My vision of being a physician is so closely tied to public health and how I can affect change on a broad-based, community level. I think receiving this award solidifies that I'm heading in the right direction," said Su.