CHSU Pharmacy Alum Pursues Certifications to Expand Her Role in Patient Care
December 5, 2022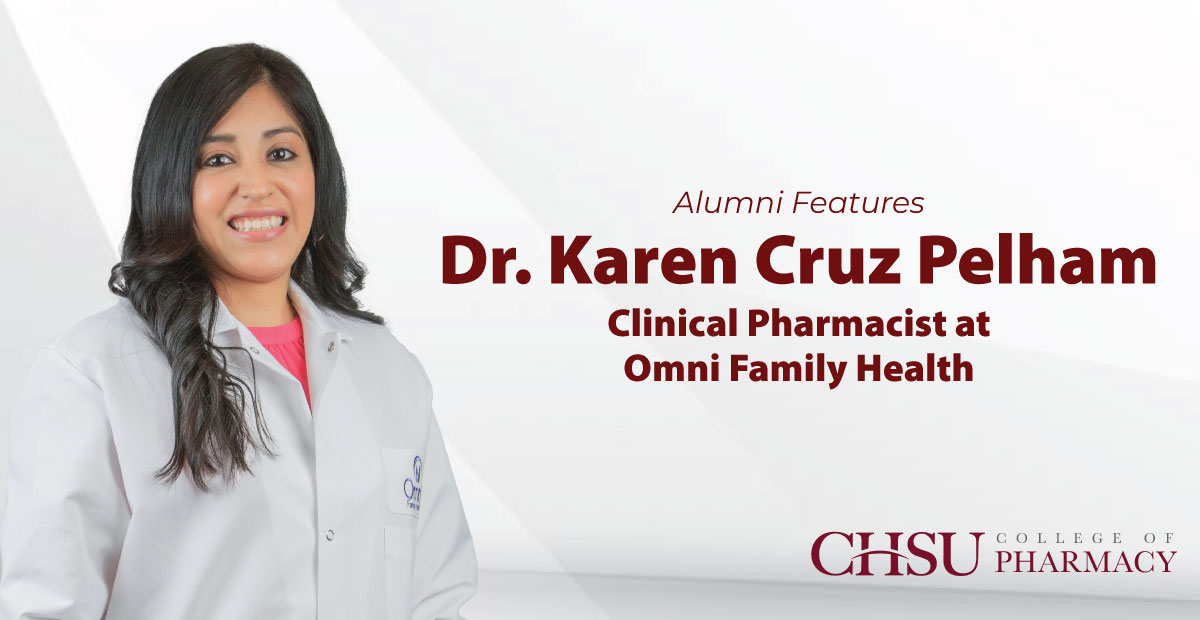 Karen Cruz Pelham, PharmD, California Health Sciences University (CHSU) College of Pharmacy 2021 alum, serves as a Clinical Pharmacist at Omni Family Health in Bakersfield and knows that the next step in her career will help her serve patients in a new way.
Dr. Pelham is pursuing the Advanced Practice Pharmacy license, which would allow her to take a more active role in patient care performing patient assessments; ordering and interpreting all drug therapy-related tests; referring patients to other healthcare providers; and participating in the evaluation and management of diseases and health conditions in collaboration with other healthcare providers.
She is determined to become an Advanced Practice Pharmacist to better assist underserved patients in the Central Valley, especially those with chronic conditions.
"I wanted to be in a place where I can talk to patients and directly provide medical care, and Omni supports that," said Dr. Pelham. "There is so much space for clinical pharmacists to grow here with special protocols that allow us to do more, such as manage a patient's chronic medication."
Dr. Pelham currently serves as one of the four clinical pharmacists at Omni where she both manages patient treatment plans and conducts clinical projects such as creating protocols to enhance the access of chronic medications for patients. One of her projects examined ways to ensure anticoagulant patients adhere to their blood thinning medication treatment plan for those with chronic cardiovascular diseases. She also worked on determining how to increase accessibility of oral contraception medications for underserved patients throughout Bakersfield.
Dr. Pelham first realized the greater impact that pharmacists could have outside of retail when she attended CHSU College of Pharmacy. As a student, her experience with student organizations and being Class President for two years inspired her to collaborate with other pharmacy students on ways to be more involved in the local community. She followed her passion to improve patient care through developing original research projects that gained recognition at student organization competitions.
"When I was at CHSU, I initially went in focusing on school. I was shy, but I knew I had to come out of my shell because I wanted to do residency. To do that I knew I had to become a leader," said Dr. Pelham. "CHSU had opportunities for leadership through various organizations, and I joined almost all of them. I became an officer for some organizations, such as Phi Lambda Sigma and Student National Pharmaceutical Association, and I attended pharmacy conferences and represented the school by participating in the National Skills Competition."
After graduating with her PharmD in 2021, Dr. Pelham completed the Kern Medical Center PGY-1 Pharmacy Residency program in Bakersfield where she was exposed to many facets in pharmacy, including critical care and ambulatory care.
She refined her clinical knowledge and continued with research projects while in residency by working in the Valley Fever Institute, HIV Clinic, OPAT clinic, anticoagulation clinic, and diabetes clinic. She presented a research project on The Effectiveness of Anticoagulation in Hospitalized COVID-19 at the Western States Conference.
Understanding that the Valley has a shortage of health care providers, Dr. Pelham also completed her Teaching Certificate during her residency so she can help train the next generation of pharmacists and other health care providers.
She has served as a preceptor to two UOP pharmacy students to mentor and train during their clinical rotations while in residency. She helped precept a CHSU student recently at Omni with another colleague. She eventually would like to become an adjunct professor of pharmacy.
"It was really fun learning about different teaching styles, creating modules, teaching a lecture on oncology, and gearing your focus on students," said Dr. Pelham. "Now, I want to give back to my community as a pharmacist who can be a mentor to student organizations or serve on committees in higher education."
In addition to the Advanced Practice Pharmacy license, Dr. Pelham is still furthering her education to become a Board Certified Pharmacotherapy Specialist to ensure appropriate and economical use of medicine as part of treatments in hospitals and medical clinics.
Highly motivated, Dr. Pelham has been driven to pursue her pharmacy career since her time in undergrad at Fresno State.
"It took a while for me to reach my position as a pharmacist, but my path was not straight after losing my father in college and my mother during pharmacy school," said Dr. Pelham. "Life circumstances can happen to anyone during the process of pursing a health care career, and some of us don't achieve our goals right away. But that didn't stop me from wanting more from my education, residency, and career."
She encourages current pharmacy students to keep following their dreams, noting that it may take time to get to where they want to be, but through perseverance it will be worth it. Bright futures lie ahead.