CHSU Pharmacy Alum Bridges Divide Between the Hmong Culture and Medicine
December 1, 2022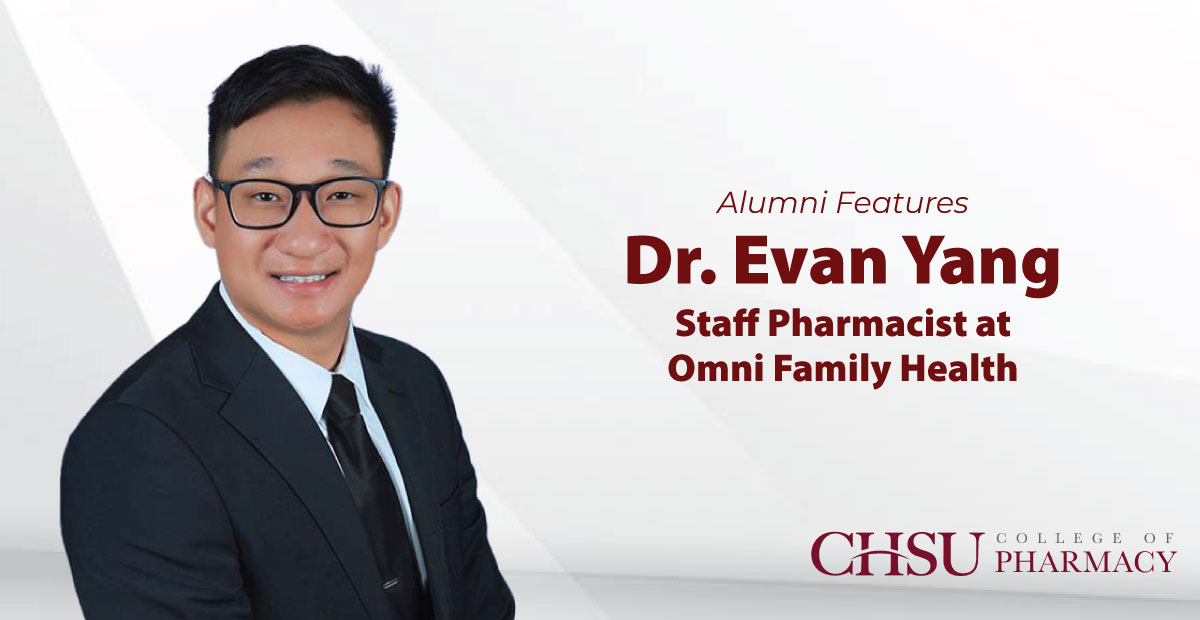 Wameng "Evan" Yang, PharmD, California Health Sciences University (CHSU) College of Pharmacy 2020 alum, is now serving as a staff pharmacist at Omni Family Health in Fresno. Dr. Yang understands how each patient needs personalized care, an important element in building trust with the local community who have diverse backgrounds and cultural traditions.
Dr. Yang discovered his passion for pharmacy after experiencing the divide between cultural dynamics and accepting western medicine with the elders in his family. As a first-generation Hmong American growing up in Fresno, he and his family immigrated from Laos. Dr. Yang cared for his grandparents who practiced traditional remedies instead of western medicine. In the Hmong culture, he says many hesitate to trust health care providers because they might not fully understand their needs or respect their beliefs.
"Seeing my grandparents struggle to take care of themselves with medicine inspired me to go into that aspect of health care," said Dr. Yang. "A big struggle was that there were few role models in the health care industry among my family, so I was treading in this career path without a lot of guidance."
After graduating with a Bachelor of Science from the University of California, Merced, Dr. Yang wanted to stay close to his family and community while continuing to pursue his pharmacy career. Dr. Yang chose to attend CHSU because of how the university's mission resonated with his personal goal to encourage health care providers to stay local and help with the health disparities.
During his time at CHSU, he enjoyed being highly involved as a student ambassador and tutor. As a student ambassador, he visited high schools in the region where he met students who came from a similar background with an interest towards becoming a medical provider.
"Being a student ambassador at CHSU helped me find the passion to continually help people in the Central Valley pursue a career in health care because we are all from the same community battling the same health disparities," said Dr. Yang.
As a staff pharmacist at Omni Family Health's first retail pharmacy in Fresno, Dr. Yang serves as a bridge between patients and physicians. He collaborates with primary care providers to ensure patients receive quality health care and helps patients navigate a network of insurance to cover the costs of their medications.
"The retail setting is like a last line of defense in health care. I review past medications and medical history in order to protect patients from duplication of therapy or to notify them of side effects that can arise from the combinations of multiple medications that they may not be aware of," said Dr. Yang.
He says he enjoys working as a retail pharmacist at Omni because of the patient interactions. Dr. Yang and several other CHSU College of Pharmacy alum are working at various Omni Family Health locations throughout the Valley.
Since becoming a pharmacist, it is common for Dr. Yang to share his knowledge of medicine in conversations with elders from the Hmong community while speaking Hmong. They are more willing to ask questions and be receptive towards his position as a pharmacist because of his Hmong background. When he shares the importance of the medication with them and how they should intake appropriately, he sees a higher acceptance and their habits progress towards using western medicine, especially among his own relatives.
Dr. Yang looks forward to continuing to serve his community in Fresno and hopes to inspire others to follow in a career in pharmacy.