CHSU Simulation Center Awarded Provisional Accreditation
January 20, 2022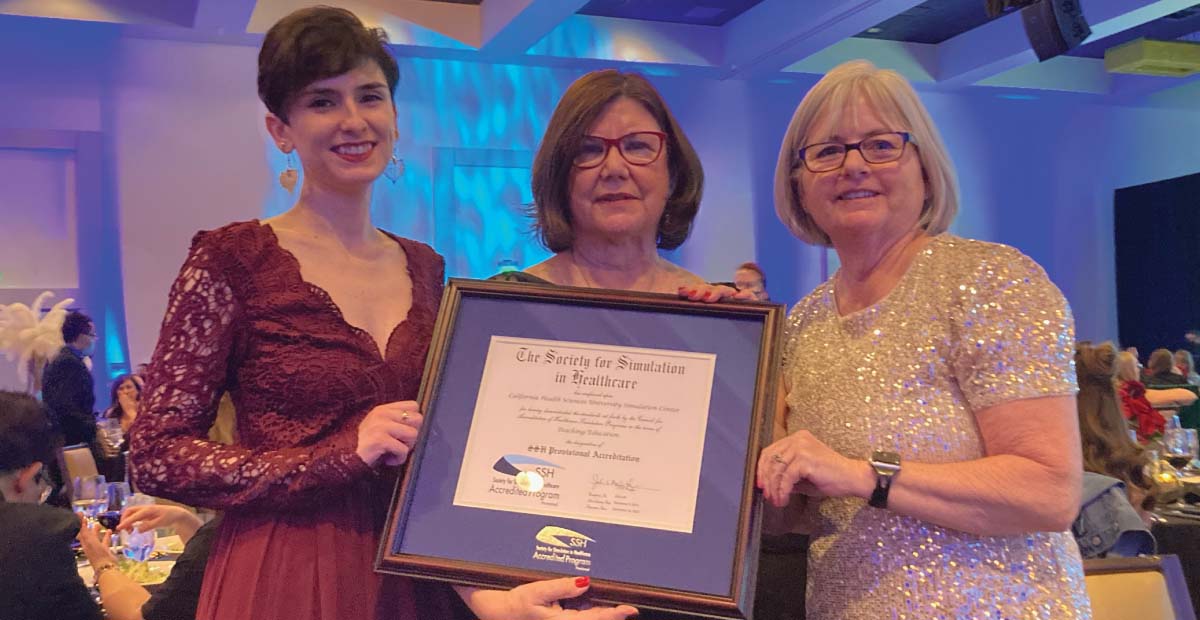 The California Health Sciences University Simulation Center was recognized at the International Meeting on Simulation in Healthcare President's Diamond Ball for receiving provisional accreditation by the Society for Simulation in Healthcare (SSH). Over 1,500 simulation professionals attended the event on January 15, 2022, in Los Angeles, CA.
The SSH is the largest healthcare simulation accrediting body in the world, with over 100 accredited programs in 10 countries. They examine a simulation program's processes and outcomes in core provisional and companion requirements in assessment, research, teaching/education, and systems integration.
After an extensive examination of the CHSU Simulation Center's program processes and outcomes in assessment, research, teaching/education, and systems integration, the SSH awarded provisional accreditation until 2024, after which a full accreditation application can be submitted.
"We are proud to have achieved this initial milestone to assure our Simulation Center follows simulation-standard best practices for our medical and pharmacy students and community learners," said Leslie Catron, Simulation Center Director.
CHSU's state-of-the-art Simulation Center is located at their College of Osteopathic Medicine. Students learn with high-fidelity manikins, task trainers, and standardized patients in specialized labs, including in-patient hospital environments and out-patient clinic or doctor's offices.
"We have made a significant investment in our Simulation Center. Research shows that using interactive simulation experiences combined with classroom learning develops better-prepared clinical practitioners while improving quality health care, education, and patient safety," said John Graneto, DO, MEd, Dean of the CHSU College of Osteopathic Medicine.
Learn more about the Simulation Center.