College of Pharmacy Students Participate in ASHP 2018 Midyear Clinical Meeting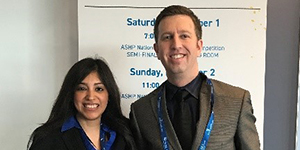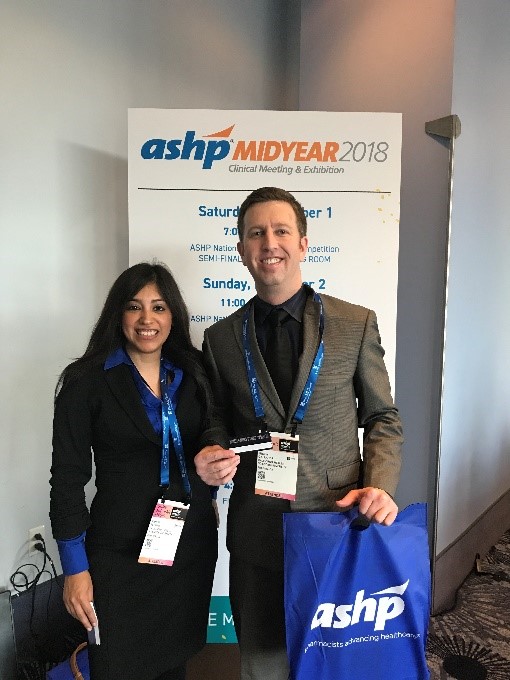 Congratulations to the College of Pharmacy Class of 2021 alumni, Drs. Karen Pelham and Justin Gallaher for recently participating in a National Clinical Skills Competition, and making it to the semi-final round.
The competition took place at the ASHP 2018 Midyear Clinical meeting on Saturday, December 1st. Drs. Pelham and Gallaher were the winning team of the Local Skill competition that previously took place at CHSU.
A special thanks goes to Macie Luallen, and Drs. Jeremy Hughes, Yuqin Hu, and Allen Keshishian who worked with the students to prepare them for this competition.
The 2018 National Clinical Skills Competition was held during the ASHP Midyear Clinical Meeting in Anaheim, California. This year, there were 139 schools and colleges of pharmacy that were competing in this 23rd annual competition.
The conference was a five-day event held on December 2nd through the 5th, and the Clinical Skill Competition portion was a two-day event (December 1st-2nd) completed in two phases, a Semi-Final Round and Final Round. Each school's winning team competed in the semi-final round, but only the ten highest scoring teams were able to advance to the final round to present their oral presentations.
Well done to Karen and Justin for doing such a great job and representing CHSU on a national level!
For more information, please visit:
https://www.ashp.org/-/media/assets/about-ashp/docs/awards-clinical-skills-competition-student-handbook.ashx?la=en&hash=614153FE85F7F9B4223280F3865A41F2C9CA4EC3