CHSU College of Pharmacy Adjunct Faculty Member Discusses Clinical and Practical Considerations of Parenteral Nutrition
December 14, 2020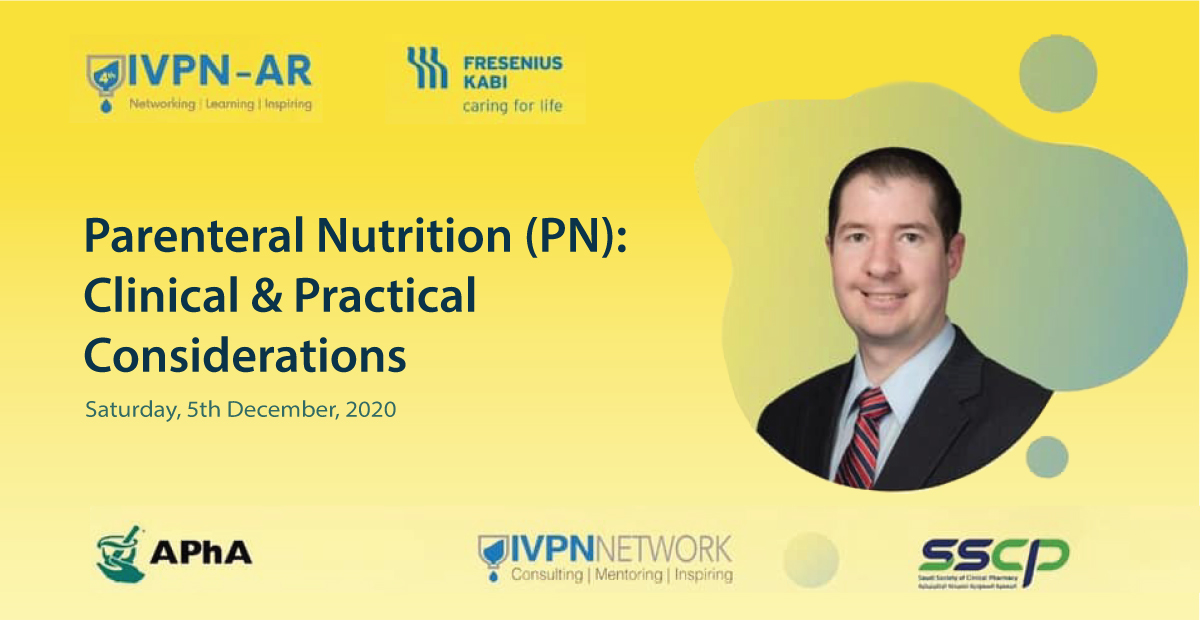 In his most recent international talk, Michael Freudiger, PharmD, APh, BCPS, BCSCP, Adjunct Assistant Professor of Clinical Sciences at the California Health Sciences University (CHSU) College of Pharmacy, spoke at the December IVPN-AR webinar that connected over 2,500 attendees, from almost 40 countries, to discuss all aspects of Parenteral Nutrition (PN), including dosing, compounding, administration and safety issues.
Parenteral Nutrition is the intravenous administration of nutrition for patients who cannot eat or absorb enough food through tube feeding formula or by mouth. This high alert IV solution is the most complex prescription in Pharmacy and requires special safeguards to reduce the risk of errors and minimize harm.
Dr. Freudiger's presentation focused on the methods and important considerations of compounding PN, including the appropriate selection of additives, use of calcium-phosphate curves, and the correct size of filters to use for infusion. He also outlined medication safety practices in the compounding and administration, and discussed how to develop staff competency of PN compounding for adults, pediatrics and neonates.
"It is important for pharmacists to thoroughly understand parenteral nutrition in order to write the appropriate doses and compound the orders correctly," said Dr. Freudiger. "PN is a 'high alert' medication because it carries a heightened risk of causing significant patient harm when errors occur, and the consequences of these errors are much more devastating."
To prevent these errors, it is important for pharmacy staff to understand the complexities and risks of PN in order to implement and follow the best safety practices. This includes having a robust education program for staff that includes all aspects of dosing and compounding, aseptic technique, hardware and software to help mitigate errors, and a regular review of the entire process to proactively prevent errors before they occur.
Dr. Freudiger is a board-certified clinical pharmacist and an expert in regulatory compliance, risk assessment, clean room technology and design, sterile compounded drug stability and administration, and medication safety. He assists pharmacies with the development and maintenance of policies and procedures complying with USP (U.S. Pharmacopeia) Chapters <795>, <797>, <800>.
In addition to teaching at CHSU, Dr. Freudiger is a USP <795>, <797>, <800> Compliance Supervisor at Saint Agnes Medical Center in Fresno, CA and at Valley Children's Hospital in Madera, CA.
IVPN was founded as a listserv in 2012 with the intention of transferring the knowledge of Intravenous and Parenteral Nutrition therapy and compounding, and has expanded over the years to cover all aspects of pharmacy practice.
These monthly IVPN-ARs (seminar/webinar) are hosted in collaboration with American Pharmacists Association (APhA) and Saudi Society of Clinical Pharmacy (SSCP) which are intended to inspire pharmacy professionals, facilitate networking, and improve learning skills.
Dr. Freudiger's presentation at the December IVPN-AR can be viewed in full below.