Medical Student Commissioned into the Navy
December 17, 2020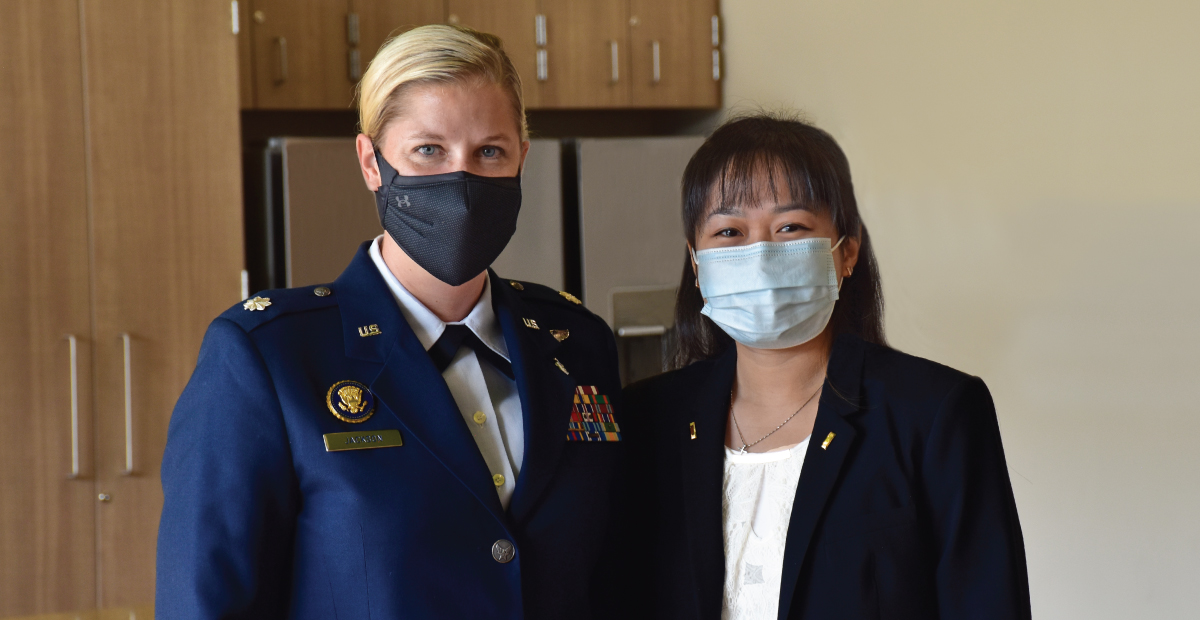 Michelle Tan's, OMS-I student (right), commissioning ceremony was officiated by Dr. JoAnna Jackson, Assistant Professor of Specialty Medicine, College of Osteopathic Medicine (left).
Michelle Tan, OMS-I student and Central Valley native, was commissioned into the U.S. Navy on December 3 on campus at the California Health Sciences University College of Osteopathic Medicine (CHSU-COM). Tan will enter the Navy as a commissioned officer after she completes her medical education and hopes to specialize in aerospace medicine, a specialty that is close to her heart.
Her commissioning ceremony represents the beginning of her military journey and the first ceremony of its kind at the new medical school. Oftentimes a military recruiter will administer the Oath of Office, signifying the recruit's commitment to supporting and defending the Constitution of the United States and discharging the duties of the office. However, it can be administered by an active or reserve commissioned officer.
Tan asked JoAnna Jackson, DO, Assistant Professor of Specialty Medicine (CHSU-COM) and U.S. Air Force veteran, to administer her the Oath of Office at the CHSU-COM campus.
"With all of Dr. Jackson's military experience, it was a great honor to have her commission me and to be the first student to have a commissioning ceremony on campus," said Tan.
Dr. Jackson served in the Air Force for 10 years of active duty service, achieving the rank of lieutenant colonel, and was deployed twice to aid in combat zones as an emergency medicine physician and flight surgeon. She is currently in the reserves.
"I was honored Michelle asked me to administer her oath of office," said Dr. Jackson. "When I took that oath in May of 2002, I had no idea where my career in the military would have led me. I am excited for the adventures and experiences that lie ahead of Michelle in her military career and cannot wait to hear about all of them."
Tan hopes that one of those experiences is training to become a Naval Flight Surgeon. Tan chose to pursue aerospace medicine because her father worked in aerospace technology, manufacturing and assembling aircraft with Boeing, which sparked her interest in aerospace medicine at a young age. As she saw how aircraft are manufactured, she was intrigued by how aircraft are tested to comply with safety measures, all while keeping the pilot's health in mind.
For her, working in aerospace medicine means that she will have the opportunity to provide medical care to pilots, who work in extreme conditions that impact their physical health despite all the safety precautions taken in the manufacturing of the aircraft. Aerospace physicians are specifically trained in the physiological implications of exposure to microgravity, radiation, G-forces and hypoxic conditions. These specialized physicians provide medical management for military and civilian aviators and space explorers.1
In pursuit of that dream, Tan chose to join the Navy through the Health Professions Scholarship Program (HPSP) where she will complete her medical education as a civilian at CHSU-COM and then serve as a physician in the Navy as a commissioned officer.
"I joined the Navy because I wanted to be a part of something greater than myself," said Tan.
Standing in the CHSU-COM Teaching Kitchen that Thursday morning in early December, Tan took the U.S. Navy's Oath of Office and received her pins in front of her family, a few peers and some CHSU faculty members.
"It was really nice to see everyone supporting me for such an important part of my life," said Tan.
Tan is one of four CHSU-COM students who have been commissioned into the U.S. military. Zach Josse was commissioned into the U.S. Navy, Jake Dertinger was commissioned into the U.S. Army, and Tanner Van Es was commissioned into the U.S. Air Force. Tan was the first to be commissioned on campus.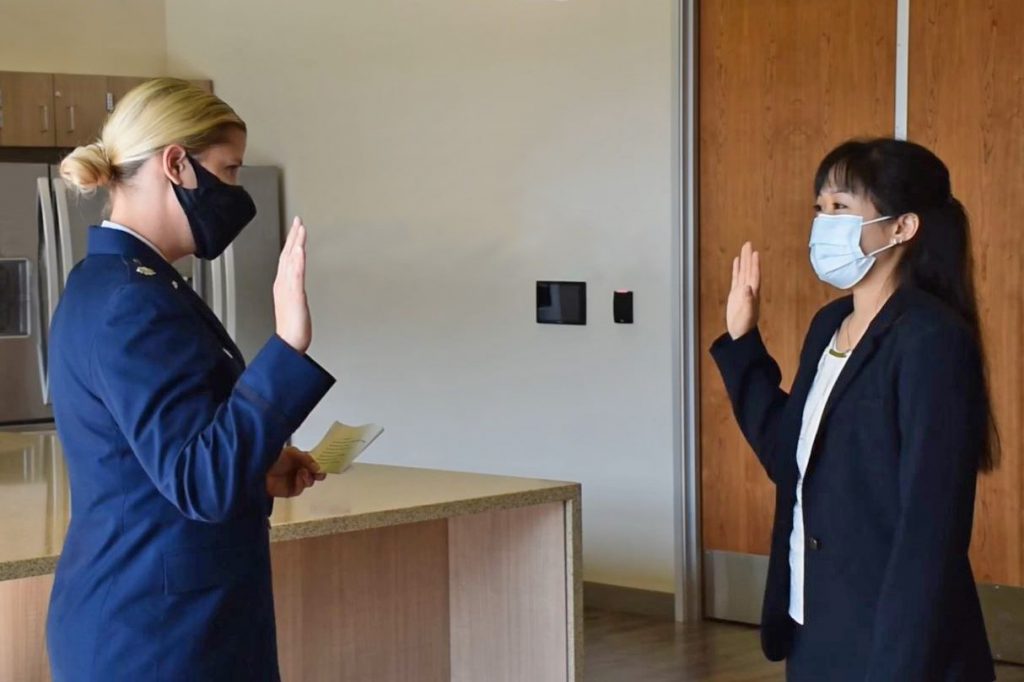 ________________________________
[1] "Aerospace Medicine." AsMA, www.asma.org/about-asma/careers/aerospace-medicine.