College of Pharmacy Faculty Member Virtually Educates Pharmacists in Pakistan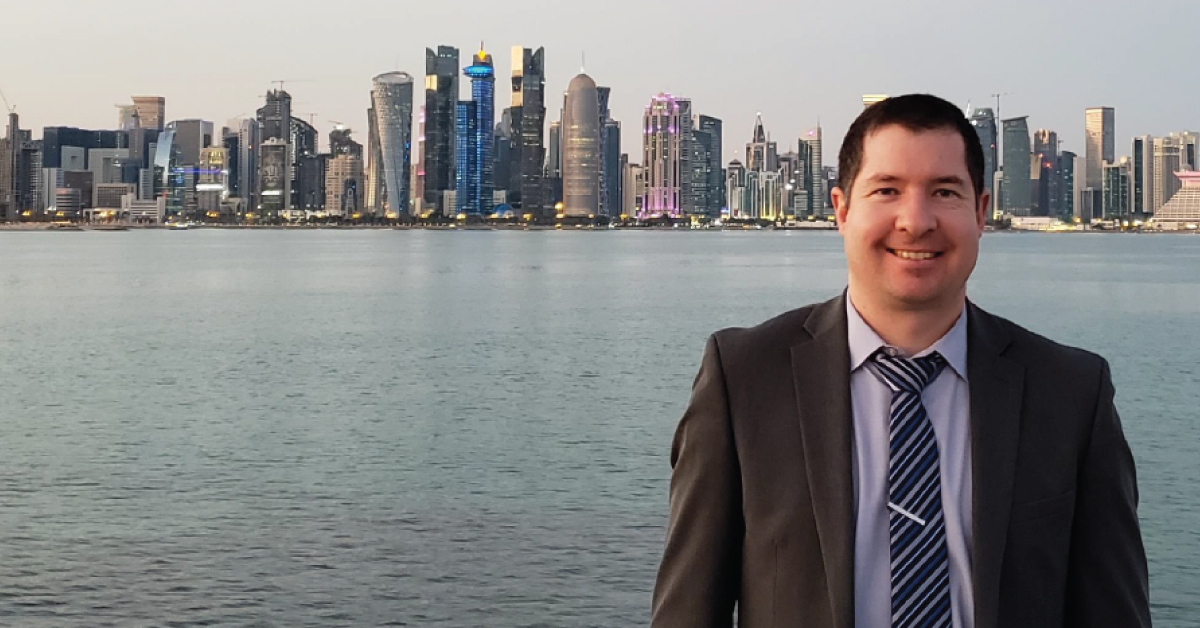 Dr. Michael Freudiger in Doha, Qatar (January 2020).
In the past eighteen months, Michael Freudiger, PharmD, APh, BCPS, BCGP, Adjunct Assistant Professor of Clinical Sciences at the CHSU College of Pharmacy, has traveled all over the United States, Croatia, Saudi Arabia, Qatar, and the United Arab Emirates giving lectures, running workshops and consulting with pharmacies engaging in sterile and nonsterile compounding.
Most recently, he spoke at Giving Back to Pharmacy in Pakistan's first International Virtual Conference where he explained the value of establishing sterile compounding services in the hospital environment and how it promotes patient safety. He shared specific examples of preventable errors that had resulted in adverse effects on patients and explained how hospitals can implement procedures to prevent errors from occurring.
Giving Back to Pharmacy in Pakistan is an organization of pharmacists from around the world, who volunteer to refine the pharmacy profession in Pakistan by sharing best practices in the field of pharmacy. He was invited to speak by colleagues who he met while lecturing in other countries in the Middle East the past few years.
"I enjoy working with the pharmacy representatives from each of the hospitals throughout the Middle East in our mutual goal of achieving the highest level of patient safety," said Dr. Freudiger, "It is a joy to cooperate in creating presentations, courses and workshops, while working with other passionate medical professionals with their own experience to learn from as well."
Dr. Freudiger is a board-certified clinical pharmacist and an expert in regulatory compliance, risk assessment, clean room technology and design, sterile compounded drug stability and administration, and medication safety. He assists pharmacies with the development and maintenance of policies and procedures complying with USP (U.S. Pharmacopeia) Chapters <795>, <797>, <800>.
In addition to teaching at CHSU, Dr. Freudiger is a USP <795>, <797>, <800> Compliance Supervisor at Saint Agnes Medical Center in Fresno, CA and at Valley Children's Hospital in Madera, CA.
Dr. Freudiger's presentation at the Giving Back to Pharmacy in Pakistan's first International Virtual Conference can be viewed in full on Facebook or below. Dr. Freudiger's lecture begins at the 31-minute mark of the Facebook Live stream.