Meet the 2020 COP Student Organization Boards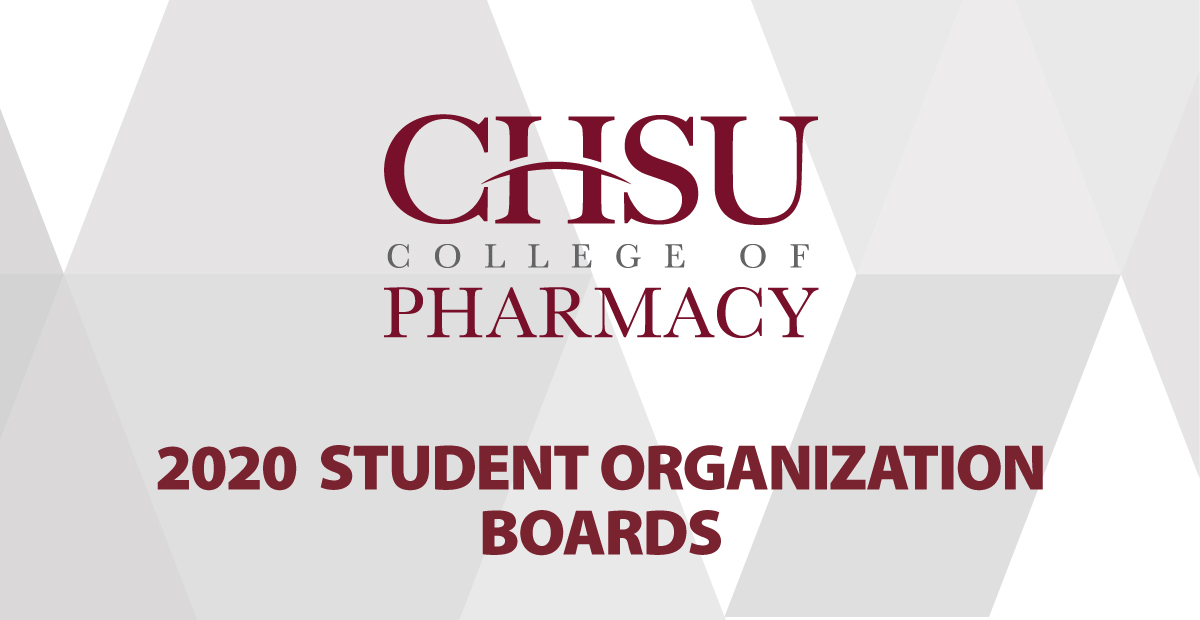 The CHSU College of Pharmacy has several active student organizations to enrich a student's pharmacy education and help them build skills that will help prepare them for the industry. Each student organization has their own unique emphasis and gives a different perspective into the field of pharmacy. Leadership for each student organization has been determined for the 2020-2021 academic year. Take a look at this year's student organization boards.
APhA-ASP

The American Pharmacists Association Academy of Student Pharmacists (APhA-ASP) at CHSU is an organization that conducts community outreach events, participates in legislative awareness events, and hosts professional development and social activities.
President: Adrianne Cruz
Finance VP: Jesus De La Torre
Membership VP: Christian Xiong
Patient Care VP: Denesse Segura
Communications VP: Khanh-Uyen Duong
International VP: Maria Sanchez
Policy VP: Yelena Martinez
Operation Heart and Diabetes Chair: Roxanne Dekker
CPhA

The California Pharmacists Association (CPhA) represents pharmacists, technicians, and student pharmacists from all practice settings including community pharmacy (both independent owners and employees working in chain drug stores), hospitals & health-systems, and specialty practices such as compounding, managed care, and long term care. The CPhA CHSU student chapter aims to advance the practice of pharmacy for the promotion of health.
President: Jennifer Dang
Board of Director: Imrendip Gill
VP of Advocacy: Jordyn Kamitono
VP of Professional Affairs: Roxanne Dekker
VP of Membership: Sheye Lee
Secretary: Deanna Sweet
Treasurer: Jesus De La Torre
VP of Social Media: Polita Chheang
Student Liaison: Mirouj Khourouzian
CSHP

The California Society of Health System Pharmacists (CSHP) student chapter at CHSU is one of 13 student chapters throughout the state. Their focus is to promote public health and the safe use of medication through research and education as well as provide an environment for students to network. Their members also will receive information and guidance for potential Residency Programs.
President: Stephanie Aquino
Communication Chair: Roxanne Dekker
Secretary: Nandita Malhi
Student Liaison: Francis Reyes
President Elect: Irina Boginski
Programming Chair: Jordyn Kamitono
Treasurer: Abigail Joy
P2 Class Representative: Jennifer Dang
P3 Class Representative: Kanwer Hudnal
P4 Class Representative: Daniel Winn
Kappa Psi

Kappa Psi is the oldest pharmaceutical fraternity whose mission is to develop leaders with a passion for community service while creating lifelong professional connections as Pharmacy students and Pharmacists. The fraternity aims to develop professional and leadership skills with all the brothers.
Kappa Psi Regent: Yelena Martinez
Vice Regent: Patricia Mae Luna
Recording Secretary: Denesse Segura
Corresponding Secretary: Christian Xiong
Philanthropy Chair: Abigail Joy
Sergeant at Arms: Maria Altamirano-Castellanos
Historian: Graeme Merrow
Webmaster: Michael Tran
Immediate Past Regent: Thomas Vu
Phi Delta Chi

The Phi Delta Chi (PDC) professional fraternity promotes scholastic, professional, and social growth in its members. Student and graduate members of this organization strive to provide quality service to their patients in order to advance public health and strengthen themselves as health professionals. The Phi Delta Chi Delta Gamma Chapter encourages its members to develop leadership skills and to become excellent pharmacists as well as well-rounded citizens.
Worthy Chief Counselor (WCC): Jarod Luhm
Worthy Vice Counselor (WVC): Kristina Kordoghlanian
Worthy Correspondent (WC): Khanh-Uyen Duong
Worthy Keeper of Records and Seals (WKRS): Rebekah Faccinto
Worthy Keeper of Finance (WKF): Brian Fabrie
Worthy Prelate (WP): Roxanne Dekker
Worthy Master-at-Arms (WMA): Laura Khrayan
Worthy Inner Guard (WIG): Jordyn Kamitono
Worthy Alumni Liaison (WAL): Adrianne Cruz
SNPhA

The Student National Pharmaceutical Association (SNPhA) is an organization that is dedicated to the profession of pharmacy and serving the underserved community. We also provide pharmacy students with leadership opportunities, scholarships, community outreach, and more! This year's board is stronger than ever and is ready to work with all of you to make a difference in our community.
President: Yvette Hernandez
Vice President: Kaywan Sepassi
Project Keepsake (CKD) Chair: Christian Xiong
Bridge the Gap Chair: Kristina Kordoghlanian
Mental Health Chair: Jennifer Dang
Scholarship and Competition Chair: Rebekah Faccinto
Diabetes Chair: Patricia Gonzalez
Power to End Stroke Chair: Michael Tran
Remember the Ribbon Chair: Jarod Luhm
Operation Immunization Chair: Brandon Aulakh
Legislative chair: Mirouj Khourouzian
Social Media and Outreach Chair: Alexa Crown
Secretary: Imrendip Gill
Student Senate (College of Pharmacy)
The Student Senate represents the student body, serves as a liaison for communication between the student body, the faculty, staff and administration, promotes awareness of student concerns, and promotes the use of established protocols for dealing with those concerns. The Senate has their own constitution under which it operates.
Senate Chair: Alexis Mejia
Senate Chair Elect: Jordyn Kamitono
Cultural Chair: Laura Khrayan
Senate Treasurer: Sintia Yaghoubi Salmasi
Senate Historian: Harveer Kaur
Senate Past Chair: Mirouj Khourouzian