CHSU College of Osteopathic Medicine Students Awarded $50,000 in Scholarships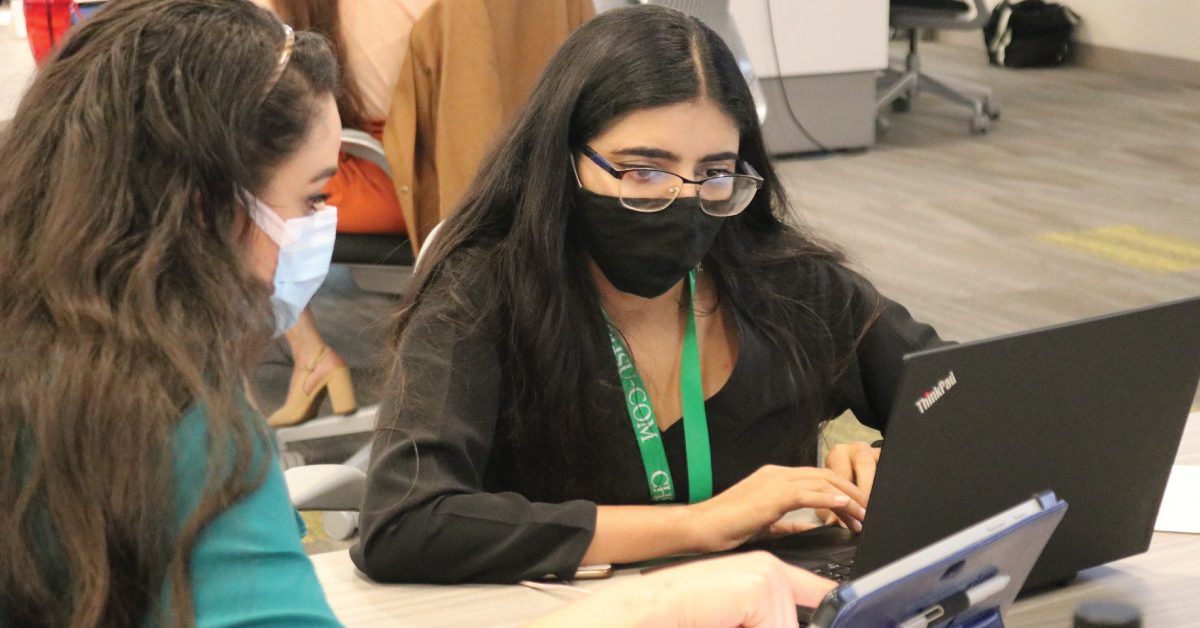 Some of the inaugural medical students at the California Health Sciences University (CHSU) College of Osteopathic Medicine (COM) were awarded scholarships totaling $50,000 this academic year. The medical students were selected through an application process that is based on both merit and financial need.
The Valley Healthcare Education Foundation provided the financial awards to these CHSU students so that they can focus on their studies knowing some of their financial burdens are alleviated. Scholarships make a difference in students' lives and help secure the future of health care in Central California.
Meet a few of this year's COM scholarship recipients:
Maram Cooper
Chowchilla, CA
California State University, Fresno

Central Valley native Maram Cooper always dreamed of becoming a doctor. And while her decision to pursue a medical education was an easy one, the path to med school proved to be a little more difficult. In high school, Maram became a teen parent and battled overcoming the social stigma associated with her newfound responsibilities. Unsure of whether or not her dream of becoming a doctor would ever come to fruition, she worked hard, earned her undergraduate degree at Fresno State and was accepted into the CHSU College of Osteopathic Medicine. She plans to stay in the Central Valley to practice as a physician in her hometown.

"It's been surreal attending medical school at CHSU. Being selected as one of the scholarship recipients means a great deal to me because it is yet another confirmation that soon I will be a physician. This scholarship will make a huge impact on my education because it allows me to dedicate more time towards my academics."

Patricia Diangkinay
Riverside County, CA
CSU San Marcos

For Patricia, becoming a physician has always been the ultimate career goal. She was exposed to the healthcare industry at a young age by her parents, a midwife and a Nurse Practitioner, and while she explored other sciences as a career, she kept coming back to careers in health care. When she became an emergency department scribe during her gap year of college, she witnessed the collaboration and problem-solving skills that the health care team displayed in each patient case and knew she wanted to be a part of it. After graduation, Patricia plans to pursue a residency program and hopes to one day contribute to the wellness of the Central Valley population using the knowledge she gains from CHSU.

"I was 13 years old when I migrated to America with my mother. Although my family and I live comfortably now, my parents always remind me of where we came from and to never take anything for granted. This scholarship is going to help me succeed tremendously and gives me the peace of mind that my basic necessities will be met financially. Overall, with less mental stress and more financial freedom, I can devote more of my time and energy to studying for medical school."

"Mia" Nurit Madeleine Hirsh
Ventura County, CA
UCLA

As a young child, Mia always knew she wanted to study medicine. Her mother, a local high school nurse, helped her treat and rehabilitate several animals she would rescue outside her small apartment. She was inspired to care for others. When her brother was enrolled in a pediatric clinical trial at UCLA, she discovered how clinical research has a profound effect on individuals, their families and advancing the field of medicine. As an undergraduate student, she decided to study psychology and to work in clinical research. Through her work within the UCLA Medical Plaza, she witnessed how dynamic, transdisciplinary and collaborative medicine can be. As she starts her journey at CHSU, she looks forward to exploring all the different areas of practice.

"In addition to the financial relief this scholarship provides, receiving this scholarship also affirmed my sense of belonging at CHSU. It means that they appreciate the challenges I have faced and the sacrifices I have made in my pursuit of a medical education and that I am not alone in believing that I can and should become a physician."

Bibi Aysha Patel
West Palm Beach, FL
Florida Atlantic University

Having experienced both the good and the struggles in the health care system, Bibi was inspired to pursue a career in medicine. Her sister was hospitalized for a genetic condition and Bibi was touched by how compassionate the medical team was to her and her family. They took the time to give assistance to the whole family and included her and her siblings in fun activities at the hospital. However, Bibi also experienced challenges in the health care system when she would translate for her father during his doctor visits. Without knowing much about some of his medical conditions, she would often have to explain what the doctor was trying to tell him. This fueled her desire to become a physician that could talk directly to a patient without a language barrier. She looks forward to providing for the underserved in the community.

"I am grateful for this scholarship and how it came at a time when it was very beneficial. My father unexpectedly passed away this year, causing drastic changes in my family's financial plans for the future. With the scholarship, I am able to assure my family that they do not need to worry about me and allows me to completely dedicate my time to studying when not in classes, rather than finding side jobs to provide for myself."

Samantha Phillips
Lees Summit, MO
University of Missouri

Samantha finds her purpose in providing care to others, working with people and furthering the medical profession. She knew early on that she had a passion for life sciences and after watching her brother go through a near-death experience, she recognized her next step would be to attend medical school. Becoming a physician allows for her to advocate for patients and make an impact on people's lives and the health care system. And for her that provides a deep sense of fulfillment. After graduation, she hopes to find a residency program that allows her to work in an urban, medically underserved setting. She also plans on becoming actively engaged in public health advocacy.

"This scholarship speaks volumes to CHSU's commitment to meeting the needs of their students and their community well, which goes beyond the scope of academics or medicine to include the whole student – just as we will go on to serve the whole patient after graduation. This scholarship means so much to me."

Carter Muajmoo Yang
Sanger, CA
UC Davis

Carter is a Central Valley native and proud HMong American. He comes from a family of HMong refugees who fled from Laos during the Vietnam War. His inspiration to pursue a medical career stems from his grandmother's legacy, who died due to complications of childbirth in the jungle of Laos, leaving his father as an orphan. Carter is the second oldest of 10 siblings and the first to pursue medical school. He hopes to stay in the Central Valley to practice after graduation.

"I am blessed to be selected for this scholarship in pursuing my goals to become a physician. Medical school is a large financial investment, and this scholarship will lessen the financial burden. There are many stressors in medical school, but financial stress is the least of them, thanks to this scholarship."