Meet the COM Inaugural Class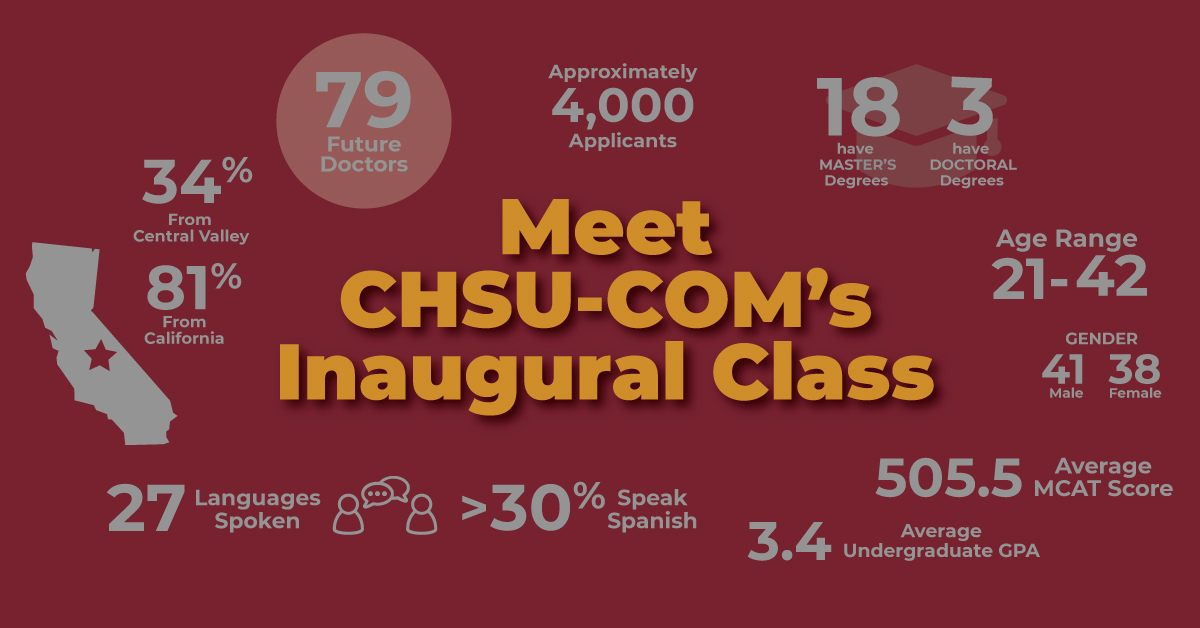 The inaugural class of medical students at the California Health Sciences University College of Osteopathic Medicine (CHSU-COM) embarked on their journey to serve the Valley's health care needs in July 2020. This cohort of 79 future doctors were chosen from a competitive applicant pool of approximately 4,000 candidates. Their academic performance, experience and dedication made them stand out from the crowd. Below is a snapshot of the CHSU-COM inaugural class of 2024.
Approximately 34% of students are from the Central Valley and 81% are from California. These medical students range in age from 21 to 42 years old and are closely split between males and females (41 and 38, respectively).
This talented and diverse cohort of medical students speak twenty-seven languages and over 30% of the students speak Spanish. Their curriculum includes a Medical Spanish course, which is critical for health care providers serving this region.
Three of the students hold doctoral degrees and 18 hold master's degrees. The students' average GPA is 3.4 and average MCAT score is 505.5. These medical students were at the top of their respective classes and place high value on education.
The top feeder schools at CHSU-COM include: UCLA, UC Davis, University of California Irvine, Fresno State, UC Santa Barbara, UC San Diego, UC Merced, Fresno Pacific University, UC Berkeley, UC Riverside, USC, and Cal State Stanislaus.
The CHSU College of Osteopathic Medicine is currently accepting applications for the Class of 2025. To learn more about applying to the next cohort of CHSU-COM medical students, visit osteopathic.chsu.edu/admissions