Valley Healthcare Leaders Discuss Medical Education During Fresno Chamber Panel
March 25, 2022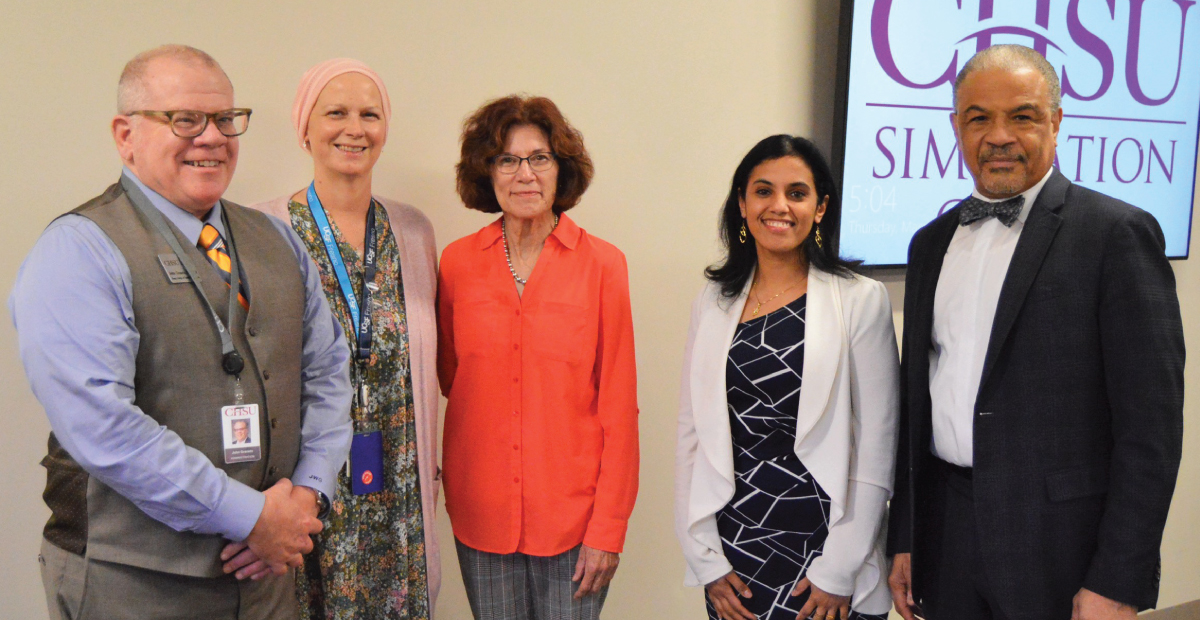 Local business leaders from the Fresno Chamber's Leadership Fresno program visited the California Health Sciences University (CHSU) Simulation Center on Thursday, March 25 for a tour of CHSU's facilities and to hear from a panel comprised of the most well-known names in local healthcare about how healthcare can be improved in the Central Valley.
Guests had a chance to tour CHSU's state-of-the-art Simulation Center and interact with the technology just like students do during their classes. Guests tried on the HoloLens augmented reality headsets to see how CHSU medical students study human anatomy and interacted with Hal, one of CHSU's high fidelity manikins, in the Simulation Center ER.
After this interactive tour, guests heard from the panel about the importance of building a sustainable healthcare workforce in the Central Valley through local medical education opportunities including medical schools and residency programs. Guests also heard about the latest updates regarding the current state of healthcare education in the Valley.
"It is so important that all the Valley's healthcare entities work together to collaborate on enhancing training capacity for our learners," said Dr. John Graneto, Dean of the CHSU College of Osteopathic Medicine.
The expert panel was comprised of:
Dr. Vini Vijayan, Pediatric Residency Program Director at Valley Children's Healthcare
Dr. Sylvia Miller, Chair of the School of Nursing at California State University, Fresno
Dr. W. Eugene Egerton, Chief Medical Officer at Saint Agnes Medical Center
Dr. Lori Weichenthal, Interim Associate Dean of Graduate Medical Education and Clinical Affairs at UCSF Fresno
Dr. John Graneto, VP of Health Affairs and Dean of the CHSU College of Osteopathic Medicine
Vanessa Vasconcelos, ABC 30 Action News anchor and reporter, moderated the panel discussion.
Leadership Fresno is one of the Fresno Chamber's most prominent programs where each year, a new, elite group of Fresnans is selected to participate in the Leadership Fresno class. Founded in 1984, the program is built to enhance the skills, resources and civic involvement of business leaders in the community.
Header Photo: Right to left: Dr. John Graneto, Dr. Lori Weichenthal, Dr. Sylvia Miller, Dr. Vini Vijayan, Dr. W. Eugene Egerton