CHSU Pharmacy Students Celebrate 2022 ASHP Match Results
March 24, 2022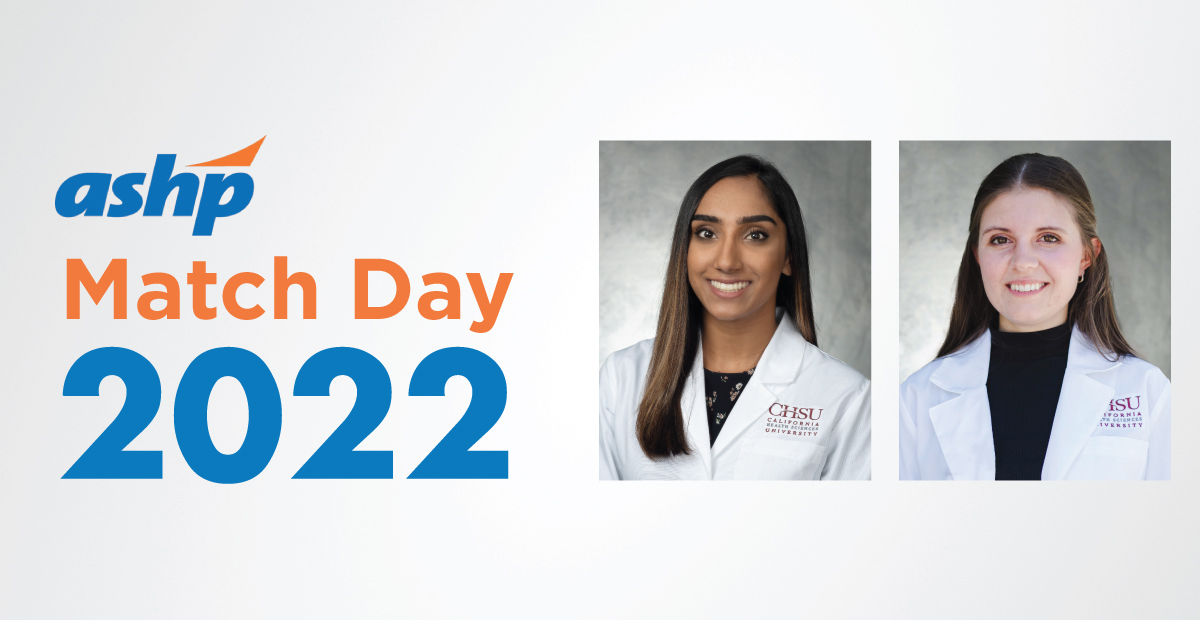 California Health Sciences University College of Pharmacy (CHSU COP) celebrated two pharmacy student residency matches on this year's Match Day on March 16, 2022. While not required to practice, pharmacy residency programs provide additional training in a specialty after one obtains a Doctor of Pharmacy (PharmD) degree. This additional education makes a residency graduate eligible for board certification in a pharmacy practice specialty.
Fourth year CHSU pharmacy student, Imrendip Gill is a Central Valley native who chose to pursue residency to further her clinical skills in both acute and ambulatory care settings. Acute and ambulatory care pharmacists work directly with patients, in conjunction other health care providers, to provide pharmaceutical treatment at the hospital bedside and in clinics, physician practice groups and other patient care sites. She matched with the Adventist Health Central Valley Network Pharmacy Resident Program in Hanford, CA and was one of only two chosen for their 2022-2023 PGY1 (Post Graduate Year 1) cohort.
"I was born and raised here in the Central Valley, so I am grateful to have matched in this area," said Gill. "I'm looking forward to working closely with patients in an ambulatory care setting and seeing how I can grow clinically in the next year."
Irina Boginski, fourth year CHSU pharmacy student, matched with the Community Medical Centers PGY1 Pharmacy Residency Program. She was one of five selected into this residency, which focuses on providing medication-related direct patient care, such as internal medicine, critical care, and emergency medicine, as well as provides training for pharmacy operations, administration, and inpatient care. This residency program is a multiple-site program, and residents will have experiences at both Community Regional Medical Center (CRMC) and Clovis Community Medical Center (CCMC).
In her time here at CHSU, Boginski has been a leader on campus, being awarded the CSHP 2021 Student Leadership Award for her efforts in helping coordinate events to bring health professionals on campus to discuss pharmacy careers and residency opportunities with current CHSU students, as well as helping her peers prepare for Objective Structured Clinical Examinations and clinical rotations.
Across the country, 4,988 pharmacy students matched with 2,430 residency programs in the first round of the 2022 American Society of Health-System Pharmacists Residency Matching Program (ASHP Match).
Congratulations to the future pharmacists who matched in the first round!