Valley Pre-Med Students Build Skills for Medical School Success
April 5, 2021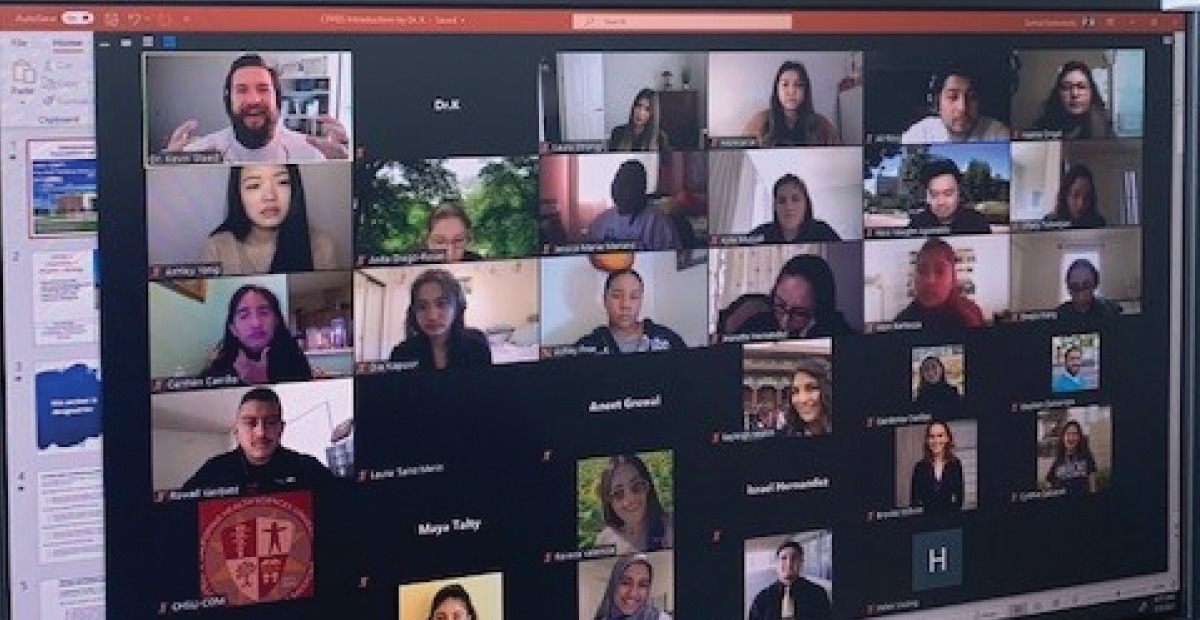 Twenty-nine Central Valley pre-med students participated in California Health Sciences University College of Osteopathic Medicine's (CHSU-COM) virtual Pre-Med Boot Camp in March. During the four-weekend boot camp, attendees participated in activities to prepare them to take the Medical College Admissions Test (MCAT) including study tips, test taking strategies, and Anatomy and Physiology MCAT concept reviews.
Participants of the boot camp also received a virtual tour of the CHSU-COM facilities, including the Simulation Center, and received insights into DO school and curriculum.
The boot camp was led by CHSU-COM faculty members, Dr. Samuel Kadavakollu, Director of MCAT and Preparatory Programs and Interim Department Chair of Biomedical Education and Dr. Kevin Steed, Assistant Professor of Biomedical Education.
"As I prepare for the MCAT, I feel more confident in how I'm going to do because I had Dr. K go over strategies and Dr. Jeffrey Hill really explained physio," said Luis Vargas, fourth year student at U.C. Merced. "I want to thank CHSU for the support and for motivating me to continue my journey to becoming a physician. When the time comes, I hope to be a part of the CHSU family!"
Current CHSU medical students shared their experiences in applying to and attending medical school with boot camp participants and the CHSU-COM admissions team provided a presentation about the admissions process and pre-requisites. They also learned how to improve their personal statement writing skills, and received interview tips and techniques.
"Initially I went in seeking a little bit of information beyond entry level things that you could find on the website and honestly, I left with so much more," said Ashley Pree, sophomore at California State University, Fresno. "I could tell that the faculty were really invested in equipping us pre-med students with all the tools and information to help us on our path to becoming med students."
The CHSU Pre-Med Boot Camp was provided at no cost to local pre-med students, thanks to a generous Central Valley Higher Education Coalition (CVHEC) grant. CHSU-COM hopes that these bootcamps will continue to be a prime resource for those who are interested in medical school and encourage graduates to stay in the Valley, where there currently is a severe shortage of physicians.
"As someone who is from the Central Valley, grew up and has benefitted a lot from high school programs to get me into my undergrad, this boot camp was really nice to hear about and experience because we finally have a medical school in the Central Valley and they're willing to put in the work to invest in the youth here," Aneet Grewal, Selma native.
This is CHSU's third Pre-Med Boot Camp and hopes to continue offering this boot camp to more pre-med students.
See what some of this year's participants have to say about their experience at the event!