Osteopathic Medical Students to Pursue Residencies in the Valley and Beyond
March 21, 2022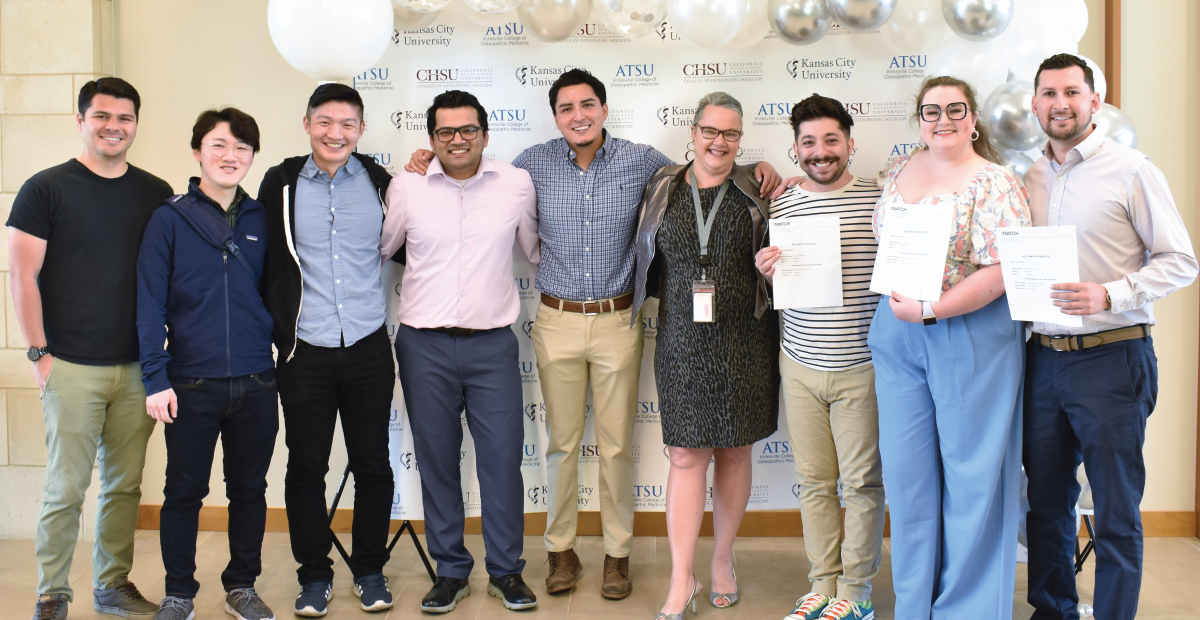 It was another 100% match rate on "Match Day" this year for visiting fourth-year medical students at the California Health Sciences University College of Osteopathic Medicine (CHSU-COM). All 18 visiting medical students from Kansas City University (KCU) and A.T. Still University (ATSU) matched to a residency program.
For medical students, matching to a residency program opens their career path and gives them an opportunity to learn and practice under physicians in their specialty after they graduate.
This is the second year that 100% of CHSU-COM's visiting medical students matched to a residency program, with 50% of them matching to programs in California. This pilot program began in 2019 and has become a unique avenue for medical students from KCU and ATSU to develop relationships with our local community and help address the physician deficit in the Central Valley.
Christian Campat, fourth year student from KCU, matched with his top choice – UCSF Fresno's General Surgery Residency. Campat is originally from Ventura, CA and moved to KCU for his first two years of medical school. When he saw the opportunity to come back to California through the CHSU-COM Visiting Students program, he took the opportunity and one of his rotations was at UCSF Fresno.
"I came to the Central Valley for the rest of medical school, and I really enjoyed it. I'm excited to serve this patient population because there's a big need," said Campat. "Over the past year I've seen the growth in my surgical skills and in my development as a fourth-year, so the fact that I get to continue my development is unreal."
Valley native Jose Garcia started his medical school journey at KCU and came back for his third- and fourth-year rotations through the CHSU-COM Visiting Students program. He matched with UCSF Fresno's Family Medicine Residency program – his first choice for a residency program.
"One of my main goals was to go to medical school to help the underserved and under-represented minorities and communities," said Garcia. "I think UCSF provides really good training and a good opportunity to serve that patient population."
Dr. Anne VanGarsse, Associate Dean of Clinical Affairs, Community Engagement and Population Health and Dr. Nohemi Barriga, Career Counselor and Residency Match Manager, coordinated the efforts to pair CHSU faculty and staff with each fourth-year student to provide one-on-one residency counseling and prepare them for residency applications.
"We know that a substantial percentage of physicians choose to settle where they did residency," said Dr. VanGarsse, "So we are very hopeful that they will choose to stay and practice here."
Nationwide over 7,300 osteopathic medical students waited for their match results on Friday, with 91.3% of them matching to a residency – a two percent increase from last year. One of CHSU-COM's visiting medical students is the first DO in their specialty to match at their residency program.
Below is the complete list of CHSU's visiting student residency matches:
Visiting Student
Medical School
Residency Program
Residency Location
Specialty
Bikash Adhikari
ATSU
Samaritan Health Services
Corvallis, OR
Psychiatry/Child Psychiatry
Brooke Bloomfield
ATSU
WiNC GME Consortium – MCW-Prevea Family Medicine Residency Program
Green Bay, WI
Family Medicine
Allen Chacko
ATSU
MultiCare Good Samaritan Hospital
Puyallup, WA
Family Medicine
Blake Durnell
ATSU
Kent Hospital/Brown University
Warwick, RI
Internal Medicine
Andrew Torres
ATSU
Family Health Centers of San Diego
San Diego, CA
Family Medicine
Frankie Dournayan
KCU
Baylor College of Medicine
Houston, TX
Pediatrics
Christian Campat
KCU
UCSF Fresno
Fresno, CA
General Surgery
Sheetal Chopra
KCU
Memorial Hospital at Gulfport
Gulfport, MS
Family Medicine
Edward Dorfman
KCU
UCSF Fresno
Fresno, CA
Orthopaedic Surgery
Jose Garcia
KCU
UCSF Fresno
Fresno, CA
Family Medicine
Kelsey Helm
KCU
University Hospitals
Jackson, MS
Psychiatry
Kevin Hua
KCU
Virginia Mason Medical Center
Seattle, WA
Internal Medicine
Rabia Kamboj
KCU
Sea Mar Community Health Centers
Marysville, WA
Family Medicine
Tyler Ky
KCU
College Medical Center
Long Beach, CA
Internal Medicine
Mike Lim
KCU
UC San Francisco – East Bay Surgery Program
Sunrise Health GME Consortium
Oakland, CA
Las Vegas, NV
Surgery Preliminary
Diagnostic Radiology
Catherine Liu
KCU
Loma Linda University
Loma Linda, CA
Psychiatry
Clara Liu
KCU
Riverside Community Hospital
Riverside, CA
Internal Medicine
Yasamin Mohammadi
KCU
UC San Diego Medical Center
San Diego, CA
Pediatrics
For more about CHSU-COM's match results, please visit osteopathic.chsu.edu/match-results.