Wendy Duncan Named Senior Vice President for Academic Affairs and Provost at California Health Sciences University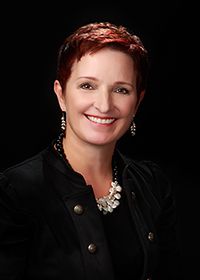 CLOVIS, Calif. – Wendy Duncan has been named Senior Vice President for Academic Affairs and Provost at California Health Sciences University effective June 24, 2015. Duncan comes to CHSU from Drake University in Des Moines, Iowa, where she served as Dean in the College of Pharmacy and Health Sciences and Professor. She also previously served as Vice President of Academic Affairs, Dean of Pharmacy, and Professor at St. Louis College of Pharmacy.
"With extensive experience in strategic planning, change management and curriculum design, Dr. Duncan will be instrumental in leading our University's continued growth and expansion into other programs and colleges," says CHSU President, Florence T. Dunn. "She is a visionary with a passion for developing innovative learning and scholarly opportunities for students. The entire campus community will benefit from her expertise in intra- and inter-professional coalition building and developing and advancing a research agenda. I look forward to seeing the University continue to prosper under her leadership."
Duncan received her Bachelor of Science in Pharmacy and PhD in Pharmaceutics from the University of Toronto. Prior to her appointment as Dean, she served as a faculty member at the University of Toronto and as Associate Dean for Education and Director of the Office of Teaching, Learning and Assessment at Auburn University's Harrison School of Pharmacy.
Duncan has demonstrated her comprehensive understanding of accreditation procedures through the successful completion of self-studies resulting in accreditation and reaccreditation at four institutions at both the programmatic and regional level and by serving as a site evaluator for the American Council for Pharmaceutical Education since 2007. She will be instrumental in leading CHSU through the accreditation processes with the Western Association of Schools and Colleges (WASC), Accreditation Council for Pharmacy Education (ACPE) and accrediting agencies for future colleges. The University and CHSU College of Pharmacy will be eligible to obtain full accreditation with the aforementioned accrediting bodies upon graduation of the first class in 2018.
Duncan is a distinguished expert in new program evaluation and development and curriculum development and assessment. At Drake University College of Pharmacy and Health Sciences, she facilitated feasibility studies for Professional Sciences Master's in informatics and applied genomics, optometry, physician assistant, physical therapy, doctor of occupational therapy (OTD), master's of athletic training (MAT), and master's of applied behavioral analysis. The OTD and MAT programs, as well as pre-professional programs for both were chosen for development. At both St. Louis College of Pharmacy and Auburn University Harrison School of Pharmacy, Duncan instituted curricular transformation with the extensive use of team-based and problem-based learning – designed "backward" from ability outcomes and pharmacist competencies – and a greater focus on practice management, advocacy and community service.
Duncan also conveys a strong focus on intra- and inter-professional coalitions and research. She formally instituted the Des Moines Area Interprofessional Collaborative among five colleges and universities. She was instrumental in amassing the Missouri Pharmacy Coalition, a consortium of colleges, state pharmacy organizations and board members creating a legislation- and policy-focused alliance. She was responsible for developing inter-professional alliances with Saint Louis University, Washington University School of Medicine, and Goldfarb School of Nursing providing new educational, practice, and research opportunities for students and faculty.
"I am honored by this appointment and fervently anticipate the opportunity to work closely with President Dunn, Dr. John Welty and the esteemed Board of Trustees, and the entire CHSU community to further advance the University, the College of Pharmacy and future programs and schools," Duncan said. "The prospect of growing CHSU into a dynamic healthcare resource for the Central Valley is truly exciting."
Duncan was selected from a pool of highly-qualified candidates during a national search conducted by Witt Kiefer that began last December. Duncan will be the founding SVP of Academic Affairs at CHSU and will succeed David Hawkins, PharmD, as Provost, who served in an interim capacity since the University began in 2012.