California Health Sciences University Hosts Inaugural Graduation Ceremony for the College of Pharmacy
May 22, 2018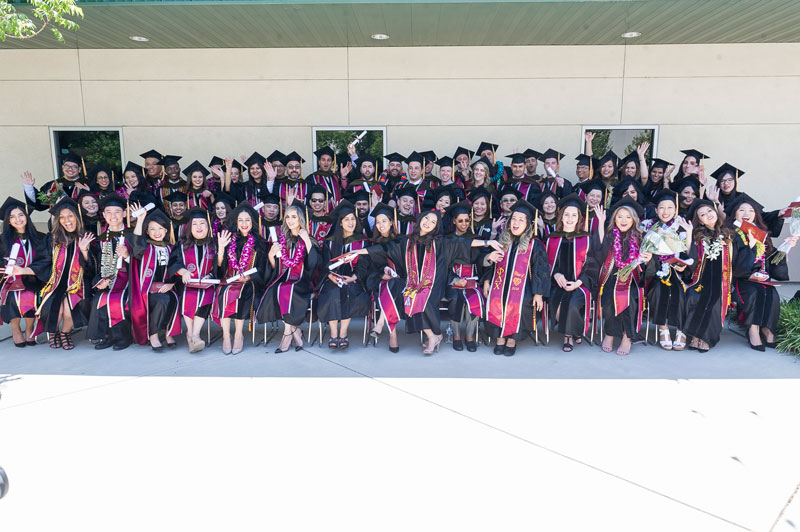 California Health Sciences University (CHSU) conferred the Doctor of Pharmacy (PharmD) degree upon 62 graduates at its first Graduation Ceremony held on Saturday, May 19, 2018 at Clovis Hills Community Church.
President Florence Dunn addressed a gathering that included more than 1,100 guests including graduates' family, friends and colleagues; faculty and staff members and the Board of Trustees.  Senator Edward Hernandez, OD, delivered the keynote address.
The hooding ceremony was performed by William Ofstad, PharmD, Assistant Dean for Education; Jeremy Hughes, PharmD, Assistant Dean for Experiential Education, Student Affairs and Enrollment; and Michael Freudiger, PharmD, Adjunct Assistant Professor of Clinical Sciences. The class received their Doctor of Pharmacy diploma by Wendy Duncan, PhD, Provost and Dean of Pharmacy.
In witness of their friends, families and faculty, the pharmacy students read the, "Pledge of Professionalism" led by Fouad Boubol, PharmD, Class of 2018 President, as well as read the, "Oath of a Pharmacist" led by David Fuentes, PharmD, Executive Associate Dean of the College of Pharmacy. Mina Al-Shahed, PharmD, was chosen by the class to speak at the graduation.
After the ceremony, students and their families were invited to a reception to celebrate the newly-graduated Pharmacists.
Congratulations to the Class of 2018! CHSU wishes the following graduates success in their future endeavors:
Kwabena Adarkwah
Amir Afshar Cum Laude
Giovauna Alberre Summa Cum Laude
Fadhl Ali Summa Cum Laude
Mina Al-Shahed Cum Laude
Shadi Sahara Asayesh
Hanin Atalla
Mher Attarian Cum Laude
Kathryn Estaya Baeza Cum Laude
Pawan Bagari Cum Laude
Raju Bashar
Fouad Boulbol Cum Laude
Sharon Brar
Hiwan Brhena Cum Laude
Jessica Wing Han Chan Cum Laude
Doris Cheung
Anabell Duclayan Corpuz
Trang Duong
Michael Farr Summa Cum Laude
Roberto Garcia
Varduhi Grigoryan
Cody Guenthart
Ngaumomy (Amy) Heu Magna Cum Laude
Yuqin Hu Cum Laude
Clare Jeon Summa Cum Laude
Hemjot Kaur Magna Cum Laude
Manpreet Kaur
Sann Lao
Dong Chinh Le Magna Cum Laude
Nghia Tan Le Magna Cum Laude
Cuihong Leung Magna Cum Laude
Daisy Lieu
Henna Mahal
Clifton McKinney
Julio Cesar Mercado
Harjoyt Mohar
Tsigereda Mulugeta
Jankhna Nadkarni Summa Cum Laude
Allen Keshishian Namagerdi Summa Cum Laude
 Lien My Thi Nguyen
Minh Nguyen Summa Cum Laude
Janik Oganesyan
Faith Olivares Cum Laude
Lauren Soojung Park Cum Laude
Krishma Patel Magna Cum Laude
Sean Patel Cum Laude
Seema Rai Magna Cum Laude
Vigil Beth Rapiz
Katayoon Samadi
Adam Jafer Shah Cum Laude
Hayley Shuman Summa Cum Laude
Nancy Thai
Edwin Thao Cum Laude
Jasmin Thind
Amanpreet Toor Cum Laude
Daniel Danh Truong
Naly Vang Magna Cum Laude
Carolina Castillo Velez
Chong Yang Summa Cum Laude
Kang Yang Cum Laude
Harry Yegiazaryan
Kc Diane Yovino Summa Cum Laude