CHSU Pharmacy Alum Improves Health Outcomes as an Industry Pharmacist
December 22, 2022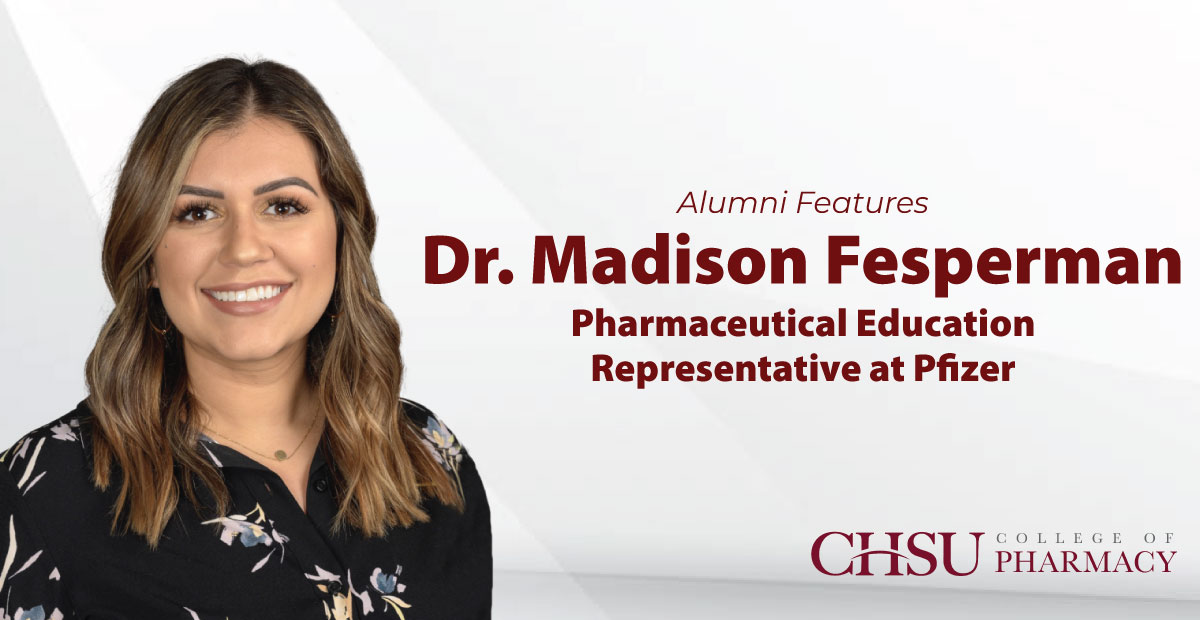 After serving as pharmacy manager at an independent pharmacy after graduating, Madison Fesperman, PharmD, California Health Sciences University (CHSU) College of Pharmacy 2020 alum, recently decided to pursue an industry sector career. In her new role, she is working with pharmaceutical companies to help educate health care providers about the newest medications available for treatment.
Dr. Fesperman is currently a Pharmaceutical Education Representative on contract with Pfizer in Tulare County, a role that she finds very rewarding. She knows that she can help change health outcomes for patients who suffer from COVID-19.
As a pharmacist working in the pharmaceutical industry, Dr. Fesperman raises awareness about the benefits and proper use of Pfizer's COVID-19 antiviral medication and the COVID-19 vaccine booster to physicians in Tulare County. Her role is a hybrid field-based position that allows her to work virtually from home or to commute up to an hour in her assigned territory to meet in-person with other healthcare professionals in various medical clinics, urgent cares, and pharmacies. She manages her own schedule in the competitive healthcare environment to interact with multiple physicians daily and have important clinical discussions about the medications. Dr. Fesperman enjoys adapting her approach to every person and company she meets to develop strong business relationships, answer questions, and provide resources.
"Some prescribers are hesitant to utilize available treatments so I'm educating prescribers in the local community to make sure their questions are answered, and they feel comfortable using available treatments so that patients are getting the best care through the pandemic," said Dr. Fesperman. "To save lives, I build trust and relationships with prescribers in my area, which ensure they can identify risk factors for progression to severe COVID-19 in their patients and become comfortable with correctly treating them when appropriate so that we can reduce hospitalizations and deaths."
Born and raised in Woodlake, Dr. Fesperman chose to pursue a career in pharmacy when she heard about the opening of CHSU's College of Pharmacy. She had graduated a semester early with a Bachelor of Science in Animal Sciences from California Polytechnic State University, San Luis Obispo and thought she wanted to become a veterinarian. But when she moved back home to Woodlake, she job shadowed a local independent pharmacy and realized that she enjoyed the hands-on service that pharmacists provide to patients daily.
"I had many wonderful patient interactions shadowing at the independent pharmacy where they would come into the retail setting to ask us medical questions instead of their doctor because it was easier to reach us," said Dr. Fesperman. "Pharmacists provide patients reassurance as the first line of defense with immediate consultation in the case that they can't visit the doctor's office. I've also had plenty of experiences of being the last line of defense to save patient lives by catching dangerous drug interactions or inappropriate dosing and notifying hospitals or providers."
As the first in her family to graduate with a doctorate degree, she attributes her recent accomplishment in the pharmaceutical industry to her involvement and leadership role in student organizations during pharmacy school, including Phi Delta Chi and being President of Student National Pharmaceutical Association.
"When I started at CHSU, I jumped headfirst into many student orgs, which helped prepare me for my current industry position where I engage in interpersonal interactions daily with providers and clinicians," said Dr. Fesperman.
From retail pharmacy to the industry, Dr. Fesperman is excited to explore the options that the industry offers pharmacists to expand her influence on health care in her hometown and throughout Tulare County. She encourages students interested in a health care profession to inquire more about industry roles that open flexible career opportunities and provide experiences beyond the clinical setting to improve health outcomes in the Central Valley.