CHSU Pharmacy Alum Inspires the Next Generation of Pharmacists
December 22, 2022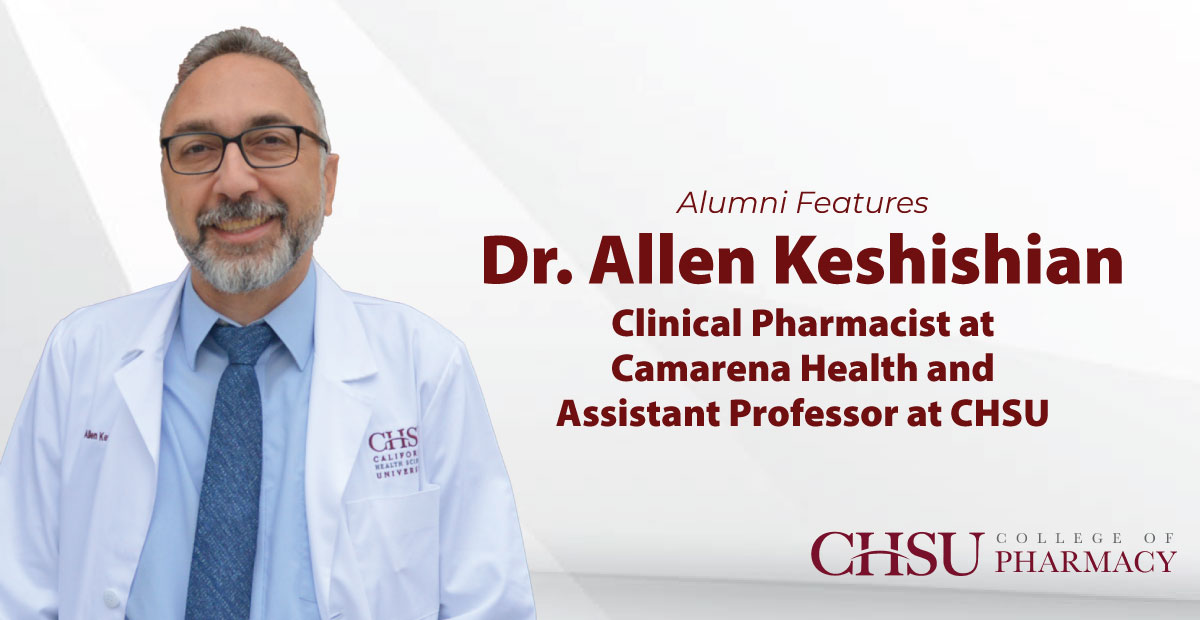 With a passion for academia, Allen Keshishian Namagerdi, PharmD, California Health Sciences University (CHSU) College of Pharmacy 2018 alum, decided to become an educator to train the next generation of pharmacists in the Central Valley. He plays a dual role in inspiring the next generation of pharmacists serving as a clinical pharmacist in the community where he also precepts pharmacy students on clinical rotations and as a faculty member at his alma mater.
Dr. Keshishian is currently the Assistant Professor of Clinical Sciences at the CHSU College of Pharmacy where he helps develop the curriculum and teaches different clinical topics in Patient Care I-IV courses as well as Pharmaceutical and Clinical Calculations. Throughout his courses, he helps students become competitive applicants in the health care workforce. As the chair for the Curriculum Committee, he leads in creating class schedules and syllabi. He also leads the Academic -Elective rotations to introduce fourth year students to different aspects of academia, such as teaching, research and service.
Beyond the classroom, Dr. Keshishian enjoys applying both his passion for patient care and academia as a Clinical Pharmacist in Ambulatory Care at Camarena Health in Madera. He works directly with patients who are referred by their physicians to manage their medications. He manages the medication therapy for various illnesses, such as for diabetes, hyperlipidemia, hypertension, and coagulation disorders. He strives to understand each patient's background and educate them on ways to improve their health. At Camarena Health, he also continues to teach CHSU pharmacy students as a preceptor where he trains them in ambulatory care during their clinical rotations.
Dr. Keshishian is most proud of his role as the faculty advisor for multiple student organizations at the CHSU College of Pharmacy for the past four years. He trains students to compete in clinical skills competitions statewide and nationwide, including California Society of Health-System Pharmacists (CSHP) Clinical Skill Competition.
In 2022, he mentored a team of two pharmacy students for CSHP Clinical Skill Competition to be the first CHSU pharmacy student team to qualify for the final round of the CSHP Clinical Skills Competition. His team won fourth place out of fifteen colleges of pharmacy from California that year.
"All the knowledge that I gained from CHSU is what I give back to my community. My responsibility in the community is not only to be a teacher for students, but to also teach my patients in the clinical setting about a healthy lifestyle and nonpharmacological treatments along with the pharmacologic interventions," said Dr. Keshishian.
Dr. Keshishian always knew he wanted a career in health care and jumped on the opportunity to pursue his dream after he and his family immigrated to United States from Iran as refugees in 2009. Despite English not being his first language, Dr. Keshishian had his sights on becoming a pharmacist to not only provide a brighter future for his family but because it was a profession that he could immediately start making an impact on patients' lives after becoming licensed. While living in Los Angeles with his wife and daughter, he left his established career in engineering in 2012 to complete prerequisite classes for pharmacy school at a community college during the day and provided for his family by working night shifts at a full-time minimum wage job.
"I wanted to become a pharmacist because they are the most accessible health care providers in the field. Pharmacists work in multiple settings so patients who don't have access to their physicians will easily approach us with questions regarding their medication and medical issues," said Dr. Keshishian. "Even though I could have stayed in engineering, I had the mentality that there is no age limit or language barrier that should stop me from changing my career path to pharmacy."
Dr. Keshishian fulfilled his lifelong dream when he attended the CHSU College of Pharmacy in the inaugural class of 2018. As a pharmacy student, his rigorous involvement in student organizations and being a teaching assistant sparked his interest in academia where he became passionate about teaching pharmacy.
In 2018, Dr. Keshishian and his faculty mentor were the first and only CHSU pharmacy student-faculty team to receive the American Association of Colleges of Pharmacy (AACP) Walmart Scholars Program out of 85 recipients nationwide, a scholarship program focused on strengthening recipients' skills for a career in academic pharmacy. After graduating with his Doctor of Pharmacy degree, Dr. Keshishian completed a postgraduate Academic Pharmacy Fellowship program in 2019 to become a faculty member for pharmacy school.
"Now that I am a professor and preceptor, I am using the mentorship and leadership skills that I learned from the experience I had as a pharmacy student in student organizations and as a teaching assistant at CHSU," said Dr. Keshishian.
Dr. Keshishian encourages students considering a health career to strive for their goals no matter their age or background. He believes it is important to learn about the different aspects of the profession so they can match their career with their specific passion, which he believes makes the years of graduate school worth the dedication.