CHSU Pharmacy Students Help in Vaccination Clinics During Their Clinical Rotations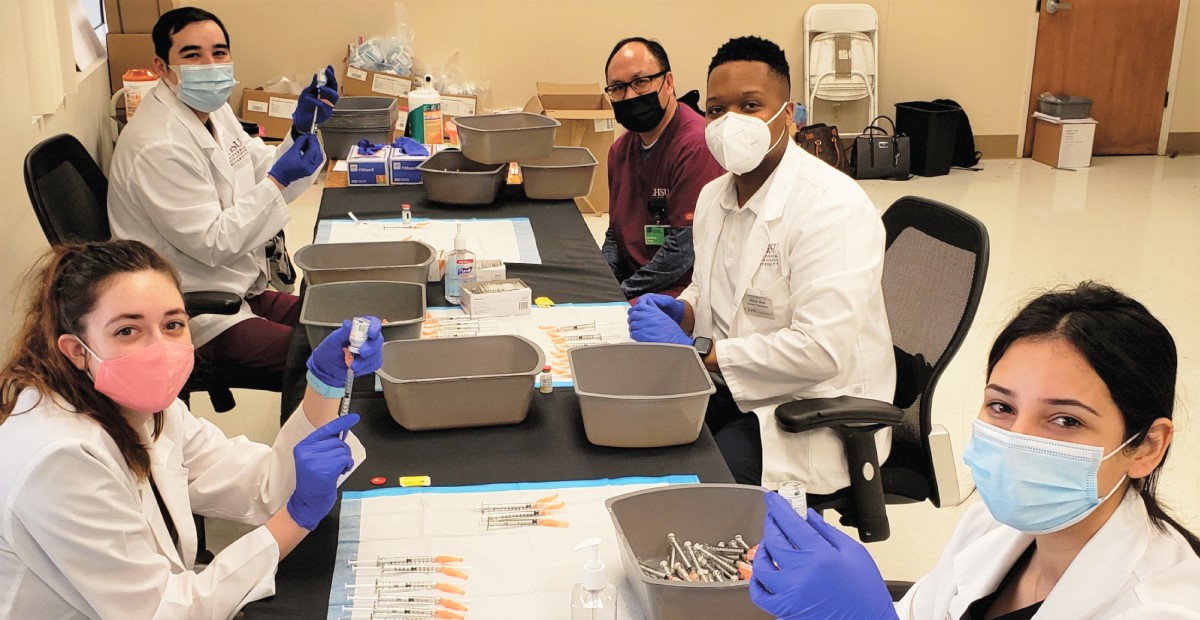 Pictured above: P4 students Emily Souza, Mitchell Wong, Teng Xiong, Bryan Beal and Syuzanna Sislian on the first day of their APPE rotation at Saint Agnes Medical Center.
As many of the CHSU pharmacy and medical students continue to volunteer their free time to help vaccinate our community, the clinical rotations CHSU pharmacy students complete also give them an opportunity to help prepare syringes in the COVID-19 vaccination clinics for our most vulnerable.
Throughout their pharmacy education, students gain hands on pharmacy experience through clinical rotations with pharmacy preceptors in our community.
In their first three years, pharmacy students complete Introductory Pharmacy Practice Experiences (IPPE), which are on-site rotations in a community pharmacy and institutional pharmacy settings under a preceptor.
Following the completion of the third academic year, students begin Advanced Pharmacy Practice Experiences (APPE) which are offered in community pharmacies, hospitals, outpatient clinics and a variety of other practice settings.
Michael Freudiger, PharmD, APh, BCPS, BCSCP, Adjunct Assistant Professor of Clinical Sciences is also a preceptor working at Saint Agnes Medical Center and has students on rotations with him and other pharmacists at the hospital.
Dr. Freudiger's APPE students are currently assisting Saint Agnes Medical Center vaccination clinics, preparing 300-600 shots per clinic, while completing their hospital and critical care experiences.
Earlier this year, six of his APPE students assisted with the rollout of the COVID vaccine during their hospital overnights and critical care rotation block at Saint Agnes Medical Center.
Over 130 CHSU College of Pharmacy students are currently out on rotations at various sites in our community.
Saint Agnes Care COVID-19 Drive-Thru Clinics are currently open only to Saint Agnes Care patients, age 65 and older, and essential health care workers. For more information, please visit Saint Agnes COVID-19 Vaccination Appointments.